I've been asked a certain question many times since I published this post explaining how I have learned to declutter without making a bigger mess.
The game-changing decluttering strategy? Taking things where they go . . . now.
Right now.
Not making piles of stuff to deal with later. In my distractible world, "later" doesn't always happen.
Even though the Take It There Right Now concept will rock your world (I promise, it will), there's this issue:
What do I do when the place where I need to take it (the place where I would look for it first) is a disaster? What if it won't even fit in the place where it's supposed to go because that space is so cluttered?
Hmmmm. Good questions.
But . . . it's possibly, maybe, potentially . . . a case of Classic Slob Over-Thinking.
Not that I'm calling the asker a slob. I'm going from my own experience as someone who always has a big ol' BUT.
(With one "t" thankyouverymuch.)
I'm going to answer the two questions separately, because they are two different ways that one decluttering project can get derailed by another decluttering project.
Question #1 – What do I do when the place where I need to take it (the place where I would look for it first) is a disaster?
A while back, I cleared our dining room table after a few weeks without hosting our church home group. (Translation: a few weeks without the Impending Doorbell Motivation I so desperately need to make me clear the table completely.)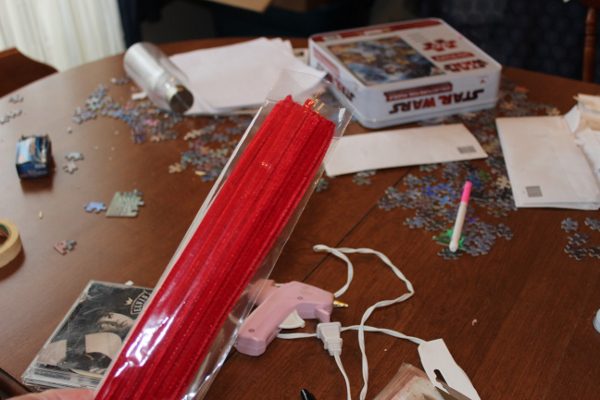 The table was covered in various craft supplies from a 7th grader's recent school project and a puzzle we'd pretty much given up on finishing.
I know where craft supplies go. I know because I answer this decluttering question: If I was looking for this item, where would I look for it first?
I would look in the dresser in our gameroom. It contains office supplies and crafty stuff and even though there weren't any other pipe cleaners, it's where I'd look first for pipe cleaners.
If I needed pipe cleaners.
You never know when you'll need pipe cleaners.
When I took them straight there right then (key to avoiding piles for the Mythical Land of Later), I found this: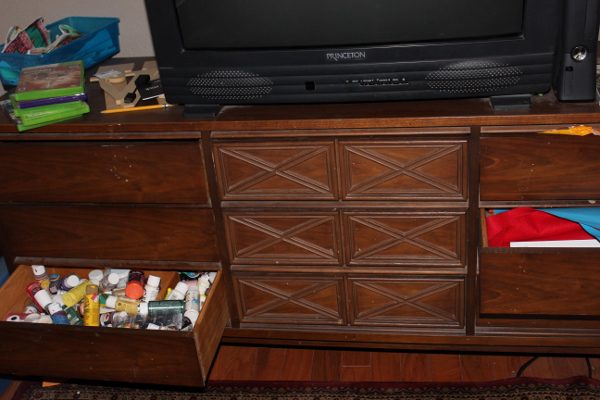 A very messy drawer (or two) hanging wide open for who knows how long.
That right there is another decluttering project, folks. A totally different "project" than the "project" I was currently tackling, which was clearing my dining room table.
I'm pretty sure some of those paint bottles are dried up. A few might even be empty. And I distinctly remember that once upon a time, they stood upright and pretty.
There was a real temptation to tackle that drawer right then. I mean, I was already in the Decluttering Zone!
But:
If I stopped clearing the dining table and started decluttering that drawer, I'd find myself sucked into the black hole of Every Other Drawer in that Dresser That Could Use a Good Going-Through.
Suddenly, the time I had to declutter would be gone, and the dining room table would still be a mess.
And that was the project I needed to finish.
That was my visible space that guests would see.
Here's what I did.
I closed the drawer.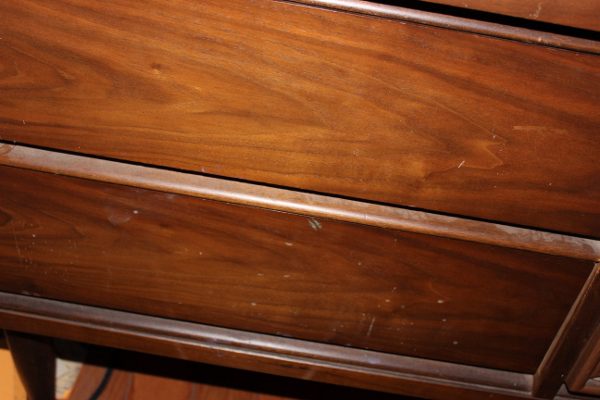 Visually, a big improvement (especially if you aren't looking close enough to see the dust and splatters and such). It took 2 seconds and didn't distract me from the project that actually mattered right then.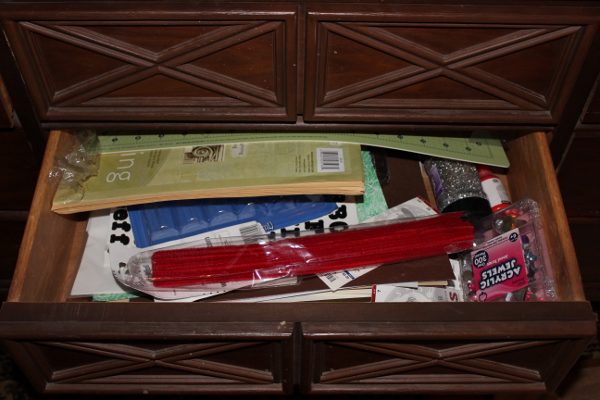 Oh, and I also ignored the mess in the drawer where I placed the pipe cleaners.
Those drawers weren't my focus. The dining table was.
Now for the other question/part-of-the-question.
Question #2 – What if it won't even fit in the place where it's supposed to go because that space is so cluttered?
What about the times when the place where I'd look first doesn't have room for the thing I'd look for in there?
Here's where grasping the Container Concept is key. Containers are natural limits. They determine how much stuff I can have. It's nothing personal, they're just there.
Shelves, drawers, cabinets, etc. are containers. They contain (limit) how much stuff I can keep.
If I definitely have to keep this object, and there's no space for it in the place where I'd look for it first, then I have to practice the one in one out rule.
For it to fit, I have to get rid of something else. Something else that isn't as worthy.
Most likely, if it's a cluttered cabinet or drawer or closet, there's at least one DUH in it.
At least one.
I need to remove (to be trashed or donated) one item that will free enough space for the item I need to place.
I don't need to do a huge project, I just need to remove one thing.
For example, while clearing the dining room table, I needed to put the puzzle in our Game Cabinet.
I despise that cabinet. It's a hodgepodge of games and other randomness. It used to be the Sticking Place (for things I didn't know where to stick), but isn't anymore because it's full.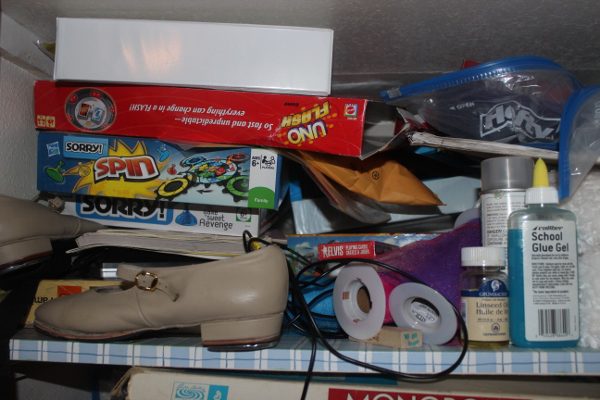 When we get a new game, I get stressed out.
Games go in the Game Cabinet, but I stress over the thought of how much time I'll have to spend (like, probably an entire day or two!) clearing it out before I can put the new game in it!
But if my Goal of the Moment is to clear the dining room table, and I need to clear it of a game/puzzle that I know we want to keep, I look in the cabinet and decide which one thing I can remove.
I don't have to declutter the cabinet, I just need to make room for the game I'm keeping.
It's the One In One Out rule.
When I let go of the idea that I have to declutter this entire thing before I can declutter that entire thing, I chill out and realize there's (at least) one game the kids have outgrown.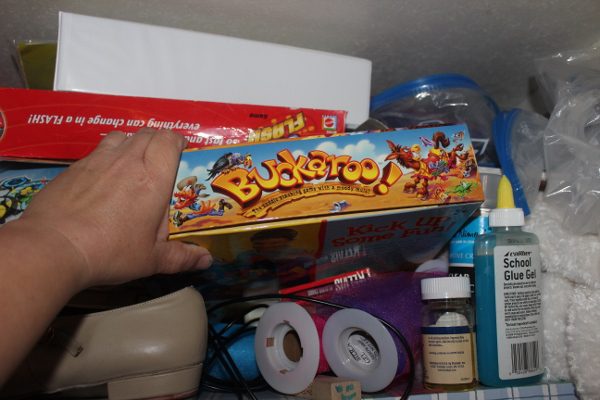 Removing that one game gives me the room to shove in store the puzzle I want to keep.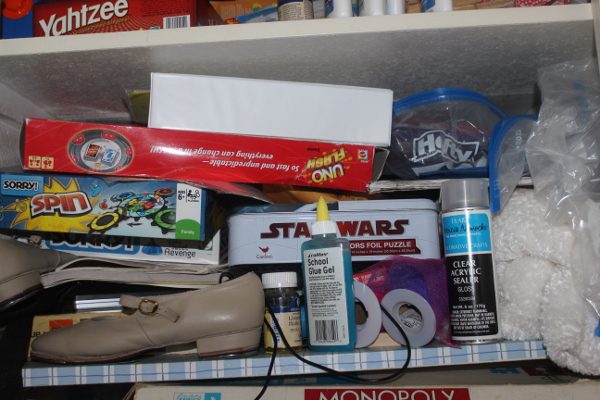 In a perfect world, I'd clean the dining room table, the Game Cabinet, the kitchen pantry, the garage and all our closets.
I don't live in a perfect world. I live in my house. And I want to let my friends come inside and eat on my dining table.
Make sense?
Do you struggle to keep one decluttering project from distracting you from another decluttering project?
Posts related to these concepts:
How to Prioritize Decluttering Projects (The Visibility Rule)
How to Declutter Without Making a Bigger Mess
Ooooohhhh, "Contain"er. Now I Get It
Keepable Resolution: Live in Your Home (Also explains the Container Concept)
Podcasts:
Containers and Limits and How They'll Change Your Life
Oh, and here's my affiliate link for the game my kids have outgrown (but used to love) on Amazon.
Podcast (aslobcomesclean-comfeeddailyaudioblog): Play in new window | Download
Subscribe: RSS
My newest book, Decluttering at the Speed of Life is now available wherever books are sold!
Does even the thought of decluttering overwhelm you? Sign up for my newsletter and get my reality-tested decluttering solutions delivered to your inbox for free.
--Nony