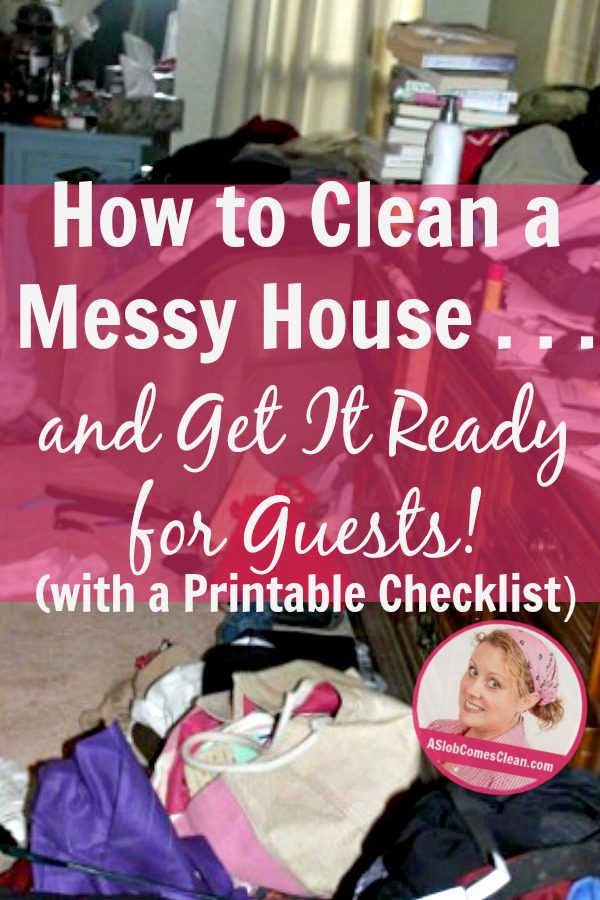 The holidays are pretty much here. I'm guessing that there are very few people who host holiday gatherings without feeling any stress at all. And if your home is messy (or worse than messy), you're probably already experiencing panic at the thought of getting it clean and ready for the guests who will ring your doorbell in the next month or so.
I'm a slob . . . but I love to throw parties. I generally try to avoid giving advice around here, but over the years, I've come up with some basic steps that I use to get the house in shape for a party.
My list . . . is just that . . . a list. It's nothing life-changing, or even new-fangled, but it keeps me on track.
Because it's just so easy to get off track.
You know, start cleaning the living room and end up running out for paint to completely re-decorate the entryway.
This is my year to host the Thanksgiving meal for my side of the family. Because of the deslobification process I've been going through for over a year now, I'm feeling OK. I have quite a bit that I want to do to be ready, but it's vastly different from the last time I hosted three years ago.
Honestly, that was during the deepest darkness of my slob-issues. I remember saying "no" to everything (with my reason being that I had to get my house clean for Thanksgiving) . . . for the entire fall.
Yep, from September on . . . I was stressed out.
But I've also used these same steps to keep myself on track getting ready for a party that's a week or two away. And even now when my house is in much better shape and I am able to have people over somewhat regularly, I use it to get the house ready for a special event. Basically, it can be expanded or contracted according what's needed at the time.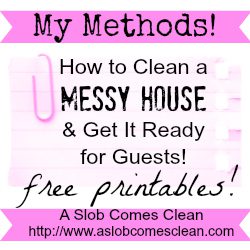 Step 1: Take a deep breath, get out your calendar and some paper, sit down at your table . . . and be realistic.
How much time do you have until the doorbell rings?
How messy is your house?
Who is coming? Are we talking about a future mother-in-law, or your best friend from college who stepped over your dirty undies for four years and knows how you really are?
What type of visit is it? Are your guests coming for a meal only? Are they spending the day, or several nights? This will determine how you prioritize rooms that need to be cleaned. You can probably keep the master bathroom out of sight if there are other potties that day-guests can use, but if 8 people need to shower in the morning, you will have to open up all available bathrooms.
What do you want the day to be like? Do you envision yourself spending two days ahead baking, setting a gorgeous table, etc.?
Once you have an idea of where you want to get, and how long you have to get there, you can know how much time you have to complete each step of the list. And if you're a person who likes to divide tasks up into the specific numbers of days you have left, ummm . . . go ahead and subtract 2-4 days from what you think you have.
Life never goes exactly as planned.
Step 2: Make a list of rooms, prioritizing them according to where guests will spend the most time.
Get up and go first to the room where you imagine your guests will primarily gather. Look around. Try to see things through the eyes that you will have on the morning of your event.
I can successfully ignore cobwebs on my dining room light fixture on regular days, but I know that my heart would sink if I noticed them on Thanksgiving Day at mealtime.
Write down the rooms in order, and under each room write the the things you want to do which aren't covered by everyday cleaning.
Why prioritize by room? It doesn't mean that rooms at the bottom of the list get no attention. Its main purpose is for you to see which rooms aren't even on the list. While someone may stumble there, the chances that guests will be hanging out in your laundry room or your linen closet are pretty slim. While your inner response to that statement may be "Duh," I'll admit that I've been known to become overwhelmed with the overall mess, determine to change my ways once and for all, and then waste two days re-organizing a space that no guest would ever see.
Because I get so easily distracted, it helps me to have an in-order-of-importance list to go back to when I find myself fixating on something that isn't even on the list.
Step 3: Throw stuff away.
Walk around your house, going through the rooms in order of priority according to your list, carrying a black trash bag. It needs to be black so mini-people can't see what you put in it.
You're looking for trash at this point. A dead plant, a stack of school papers, broken toys, etc.
Step 4: Declutter.
Go through your house, again in the order of your list, and remind yourself of things you've been meaning to get rid of. Maybe an old printer, maybe a huge pile of outgrown clothes, maybe a furniture piece that seemed like a good idea when you bought it, but has never looked right.
Stick it in the garage for your next garage sale, or even better, take it to a donation drop-spot right now.
At this point, you should start to feel some hope. If you're normal perhaps you feel like you're done.If you're like me, you're kicking yourself for having put all of that off for so long, and seeing how much there is left to do.
Just a warning, this can be a paralyzing step for someone like me. At this point in the process, I find myself constantly referring back to my priority list, and my list of overall steps that need to be finished in the time that I have. I've been decluttering for over a year now, and I'm far from done. Keep your time frame in perspective, and let it determine how extensive and thorough your decluttering can be. (And see the end of this post for a few of my most tried-and-true cheat methods.)
Step 5: Clean the kitchen.
Face it. People congregate in the kitchen whether you plan it that way or not. And a clean kitchen means you'll be able to do all of those things you need to do to prepare for your guests at the last minute. If you're a long way out, go ahead and clean your kitchen thoroughly now, then run your dishwasher every night and empty it every morning. I'm amazed at how doing that helps me be able to get it party-ready in a hurry.
Step 6: Clean the bathrooms.
People use bathrooms. Clean them well, and then check them for clutter daily, wipe them down pseudo-daily, and re-clean them once a week until the event. While yes, bathrooms need to be cleaned just before company arrives, I'm putting this here because it's possible that some people's bathrooms might need full days blocked off for an initial cleaning.
Not that I would know.
Step 7: Clean rooms in order of priority.
You've already trashed and decluttered, but that's just what has to be done before you can clean. Straighten the rooms, putting everything in place, and tackle the above-and-beyond-what-should-be-daily-cleaning tasks that you wrote down in step 2.
Remember to pace yourself.
Step 8: Dust.
Step 9: Vacuum/Clean floors.
Step 10: Repeat.
Yes. Repeat.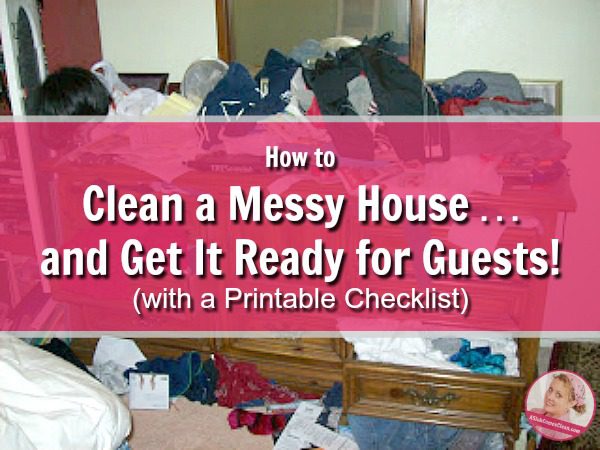 If your home is in total chaos, this list may take months the first time through. But if you have time left, go back through the list. Each task will take less time (possibly much less) the second time.
If you have a week, your methods and expectations are going to be different than if you're thinking about an event three months away. Do you have time to strive for perfection, or are you just hoping to survive this event?
Remember that everything you do in cleaning your house has one goal . . . to make your guests comfortable. Pace yourself. If you open the door and immediately go to your room, curl up in the fetal position and cry because you've been so stressed out getting things ready . . . your guests aren't going to be comfortable.
I'm hoping that this year, since I've been working through my deslobification process for 15 months already, I'll be able to be thorough on each of these steps. But three years ago, even blocking out the entire fall season, that wasn't a possibility.
If you need to . . . cheat. Save up and hire a maid to come do a final cleaning. Shove the last remaining clutter into your master bedroom and lock the door. Haul out your unconquerable pile of dirty laundry and . . . lock it in the trunk of your car.
Do what needs to be done for you to be able to greet your guests with a smile and enjoy your time with them.
Get the printable checklist in PDF here:
My newest book, Decluttering at the Speed of Life is now wherever books are sold!
Save
Save
Save