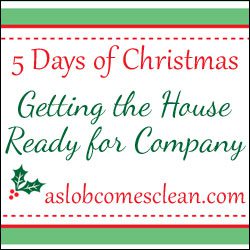 This week, I've shared a few of my strategies for getting my home company ready.
I've talked about decluttering, cooking for guests, daily upkeep, and deep-cleaning the kitchen . . . but then there's the most obvious.  Cleaning the house. Like . . . all of it.  Or at least all of it that your guests will get to see.
(Like I've said before, if you're feeling completely overwhelmed, check out my post on How to Clean a Messy House.  It has a printable checklist to get you through.)
After a clean kitchen, bathrooms are most important.  People hang out in the kitchen a lot, but they spend time in the bathrooms.
Alone.
With nothing else to do but look around.
Soooo, here's my printable bathroom cleaning checklist.  I made this for my kids, but anyone can use it.  You want detail?  That list has detail.
After the bathroom, it's time to go through each room doing basic cleaning.  It depends on my state of mind whether I do one step through the whole house before moving on to the next or complete an entire room before moving on to the next room.
If I have an entire day to set aside with no possible interruptions, I'll use the dust-the-whole-house method.  If I'm squeezing in cleaning here and there when I have a moment, I need to do one room at a time.
That gives me a sense of accomplishment and encourages me to see that I can be DONE with a space in a certain amount of time.  So, here's a basic checklist for cleaning a room.  I'm making it partly from my own experience and partly from my observations of Normal Friend.
(Just a note: This list starts after you're done decluttering.)
1.  Knock down cobwebs and ceiling fan/light fixture dust.
2.  Go around the room clock-wise with duster and spray in hand, straightening and dusting at the same time.  (With shelves, start at the top and go down.)
3.  Clean glass.
4.  Vacuum/sweep.
So simple, right?
I vary on how in-depth I make #2.  Depending on time, I might include baseboards.  Fine . . . it really depends on exactly who is coming over.
The simplicity makes it almost embarrassing to post, but the truth is that for people like me, it's not an issue of not knowing what to do, it's an issue of staying on track.  Of having a list to come back to so we can remember where we were in the process.
Make sense?
So, I'm making a simple printable of this list, in case anyone wants to have something to place nearby as they clean.  (Just remember to shove the list in a drawer pick up the list before your guests arrive!)
Also, I have another printable list that I'm very excited about! It's a Last Minute Hospitality Checklist. Click here to download.
And now, as promised, here's my Daily in December report for this first day of the month.
I fully completed my Daily Checklist today!  And hardly even cheated!  I can't say enough how important that list is to me.  Honestly, it took longer today than I know (from experience) it will in future days, because I've been neglecting it lately.  But just with that little ol' list, the house looks tons better.  Tons.
Find all my printable checklists here.
_________________________________________________________________________
Check out the variety of other 5 Days of Christmas series –
Feels Like Home – Christmas Traditions
Somewhat Crunchy – Christmas with Dairy Allergies
Spell Outloud – Children's Books
Mama's Learning Corner – Children's Crafts
Many Little Blessings – Edible Gifts
An Oregon Cottage – Christmas Cookies
Catholic Icing – Wishing Jesus Happy Birthday
The Traveling Praters – Traveling
The Homeschool Classroom – Gifts Kids Can Make
Mama's Laundry Talk – Laundry Gifts