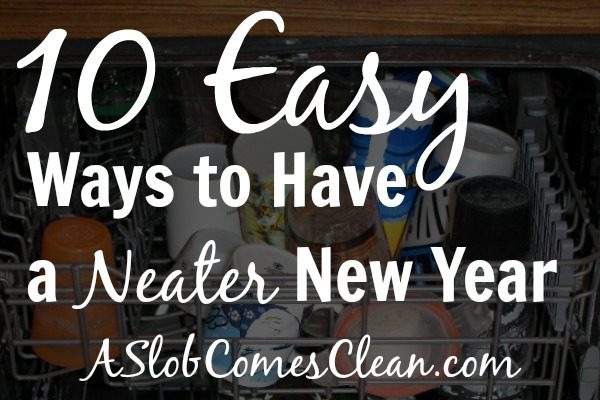 Don't worry. I'm not over-simplifying or assuming your home is a few tweaks away from perfection. But these ten simple things that I've learned the (very) hard way over the past seven years of my own deslobification process have had a big impact. A much bigger impact that I would have ever believed possible.
1. Do your dishes. I could go on and on (and I do go on and on in my book), but this is THE task that, when done daily, made the biggest impact on my home. Go here to understand how it works: Why I Have to Run the Dishwasher EVERY Night. If you don't have a dishwasher, read this: 5 Truths about a Clean Kitchen that are Still True if You Don't Have a Dishwasher. 
2. Reduce the flow of paper coming into your home. As bills or financial reports arrive in the mail, go online and choose the digital delivery option.  Most of these pieces of mail include instructions on how to switch to digital delivery right on the envelope or the report itself. More paper-clutter-reducing ideas: How to Reduce Paper Clutter
3. Declutter your dishes until they all fit inside your cabinets. At the same time.  This one separates the why-would-anyone-have-more-dishes-than-fit-in-their-cabinets types from my target audience. If you've ever been frustrated that on the rare occasion when your dishes are done (like, every single last one) there isn't room for all of them to be put away, you're my people. If the thought of decluttering plates or coffee cups sends panic through your soul because you fear running out, just focus on #1. Once you get that figured out, this will make so much more sense. For more on this general concept that I had to learn the hard way, listen to this: Containers and Limits and How They'll Change Your Life! Podcast
4.  Store your food containers with the lids on. Really. It will make your life so much easier. I explain the ins and outs of why here: Strange Organizing Solutions that Work: Storing Food Containers.
5. Create a Donate Spot. Grab an empty box and mark it DONATE. Choose a place for it (by the back door, in the garage, wherever it's not in the way but is still easily accessible). As the kids mention they don't like a toy or that their sleeves are suddenly two inches shorter than they were last week, have them throw the suddenly-unloved item immediately into the Donate Box. More on this: What a Lifestyle of Decluttering Looks Like – Podcast
6. Fold clothes straight out of the dryer. I resisted this for YEARS. I came up with every logical reason not to do it this way. But y'all, this simple thing is a game-changer. When I fold straight out of the dryer, I don't have piles of clean laundry on my couch. My living room looks way better without piles of clean laundry on my couch. Really. Read more here: The Laundry Management Method that is Rocking My World
7. Hang instead of fold. When I'm doing #6, my clothes don't get wrinkled. If I hang them instead of folding, they stay wrinkle-free. Need more words on this topic? Clothing Management – Hanging vs Folding
8. Whenever you think of it, do a 5 Minute Pickup. Set a timer and spend 5 minutes picking things up and putting them away. If you don't believe this will make enough of a difference to be worth your time, try it anyway. You have nothing to lose but 5 minutes. And this is the very best way to start getting the kids involved: Family Pick Up Time
9. Buy a soap-in-the-handle dish scrubber, mark it "BATHROOM ONLY" with a permanent marker, and hang it on a hook or over the door in your shower. Scrub a little here and there as you shower. Read more here: Making Shower Cleaning as EASY as Possible and How to Clean the Shower Without Getting Your Clothes Wet.
10. Throw away (or recycle if you have an available and established recycling routine) pens that don't work. As soon as you realize they don't work. I have no idea why this is so UNnatural to me, but it is. More on this: Planning to be Desperate and 2 Second Task – Throw Away the Pen
There you go. Ten simple, easy, pretty-much-duh-but-why-don't-I-do-these-things-naturally ways to have a tidier home in the new year. Pick one or two or do them all. Any one of these things will make your life easier. 
If you like super practical tips like these, you're going to love my new book: Organizing for the Rest of Us: 100 Realistic Strategies to Keep Any House Under Control.
And if you pre-order the book, fill out this form with your pre-order information and you'll immediately get an email with a printable Decluttering Flow Chart that leads you through my No Mess Decluttering Method! The form takes about 30 seconds to fill out, so don't wait!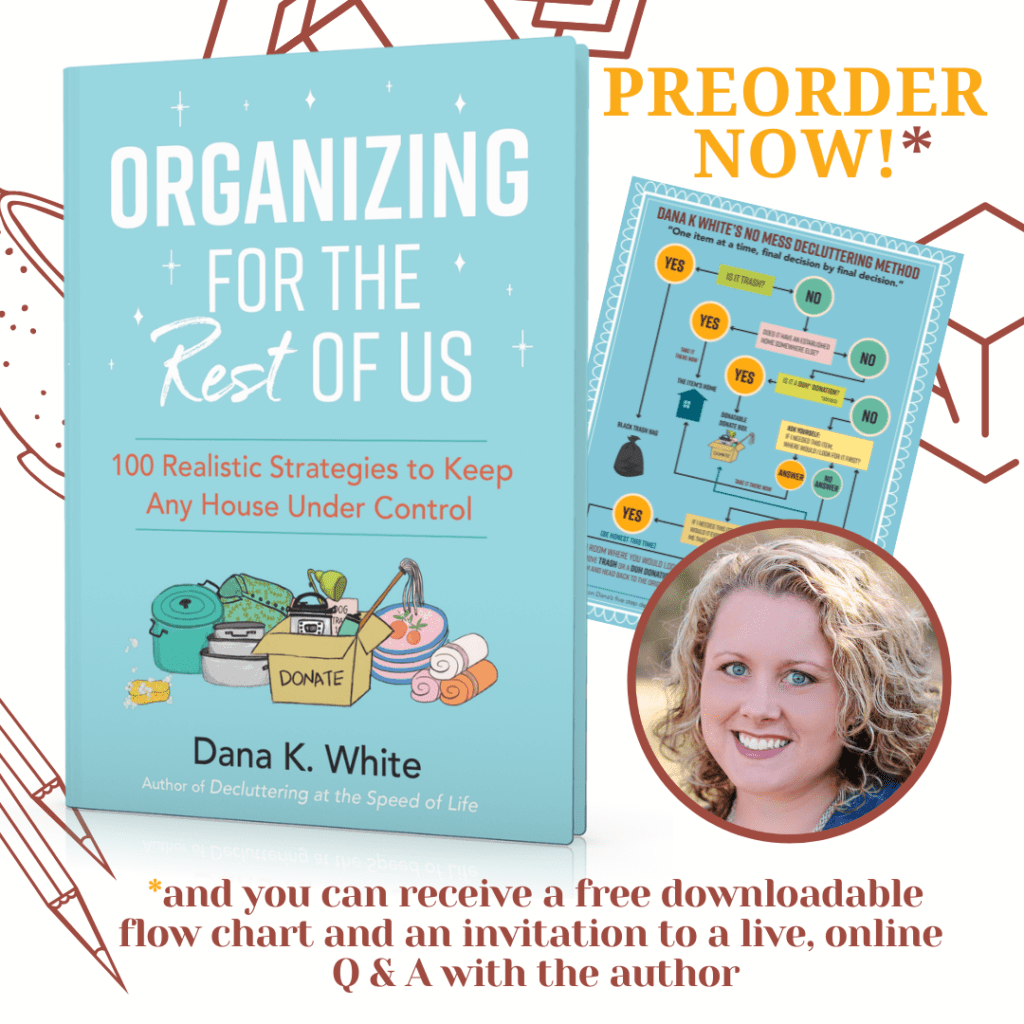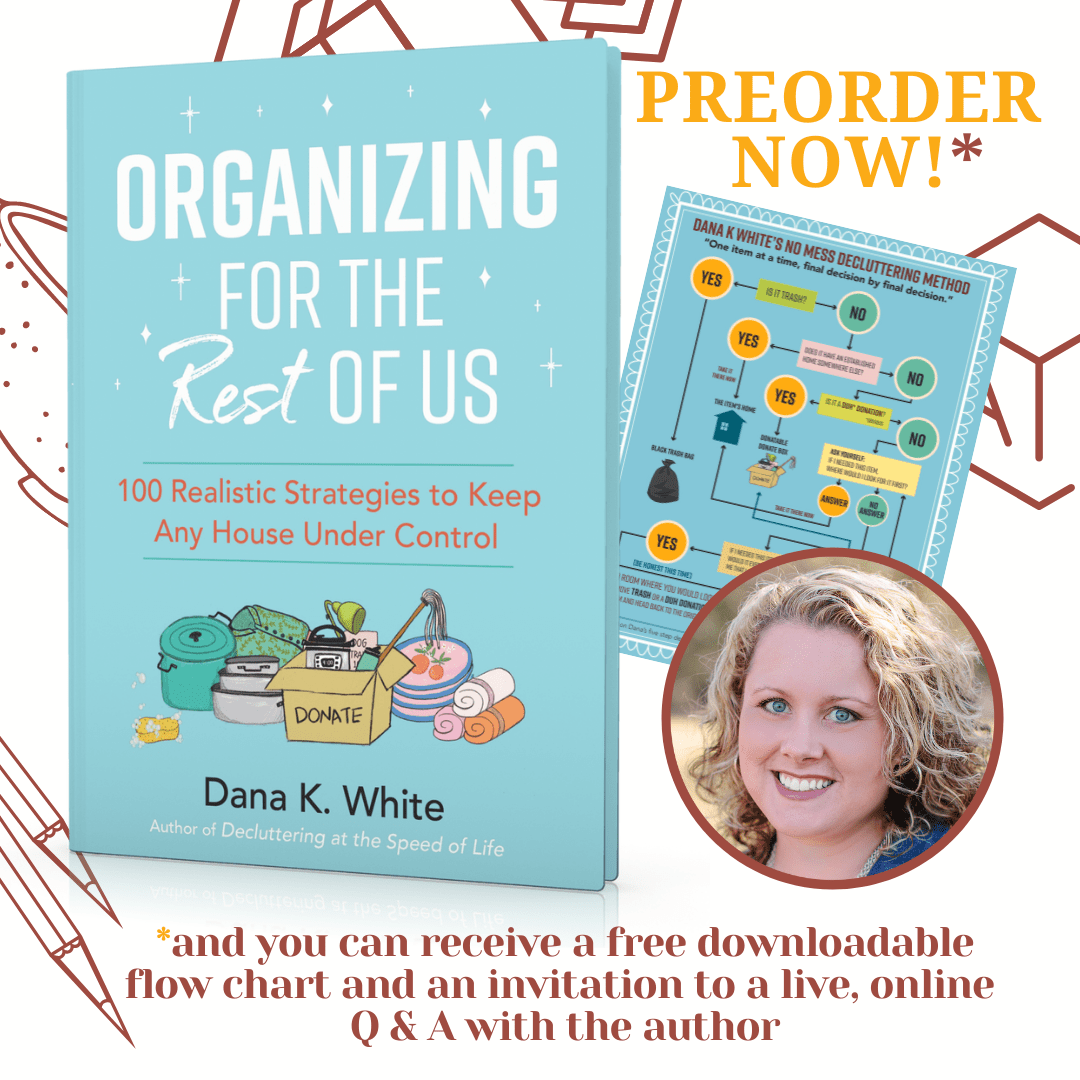 You can also listen to a podcast on this subject here!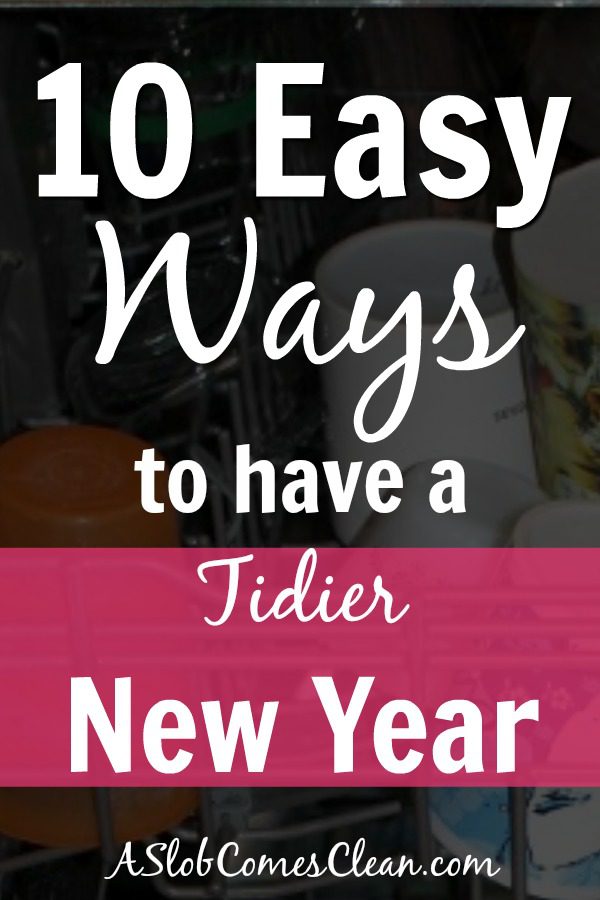 Save
--Nony