Oh, how I don't want to write this post. I'm only writing it because it has been specifically requested many many times.
Paper is a slob's natural enemy. And I most definitely don't have paper "under control." This makes me feel unqualified to speak on the subject.
But . . . I've come a long way. A VERY long way.
So I decided to share how I have greatly reduced paper clutter in our home. Notice I said reduced instead of conquered.
I hesitate because a random visitor to our home would likely see this pile: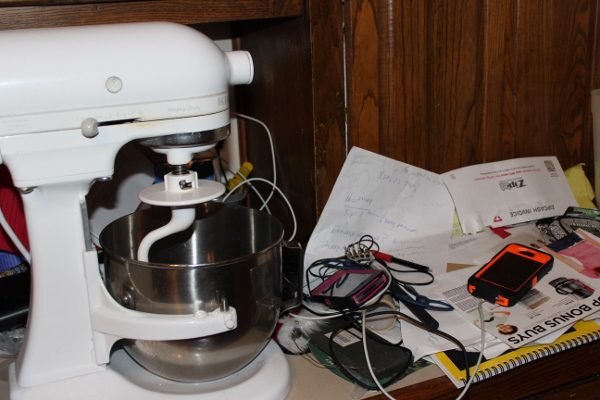 I only move that pile when something fancy-schmancy is going on.
But the pile is smaller, waaaayyyyy smaller, than it used to be. And it's just one pile. Not an entire ledge, cabinet, or five-feet-across counter top. Y'know, like we always had pre-blog.
Paper no longer makes me want to throw my hands up in despair.
And that's something.
Oh, and one last justification for this post before I give you my tips? I asked Hubby if our struggle with paper is better than it used to be.
He said it's way better. Actually, he said I sometimes scare him when it comes to paper.
I'm okay with that.
So here's how I've significantly reduced paper clutter in our home over the past few years:
I've become ruthless. Heartless.
Seriously. That sentimental part of my heart that once wanted to keep every spelling test? It died.
My kids now know the routine. I look at their papers, give them some words of affirmation (or encouragement to pay more attention to instructions next time) and then pitch them. We make use of the trashcans at church before we head to the car. No more delusions that we might want to look at that later. 
If something is extra-creative-and-artistic, it goes in a certain drawer in my dining room. (That drawer is a contain-er.) As the kids get older, fewer of those kinds of things come home from school.
I like the ideas I've heard of taking pictures of artwork to put in a memory book, but I'm not there yet.
Please note that this lovely heartlessness is a result of decluttering momentum gained from huge amounts of decluttering. Go here to see my (gained from experience) decluttering tips and read about my decluttering adventures.
        2. I follow the One Touch Rule with mail.
When I get the mail (and I try to be the one who gets it), I walk straight to the trash can/recycling bin. I go ahead and throw away ANYthing I don't need.
Distinguishing what I need from what I don't need has become easier the more I do this. I don't want to refinance our home, I don't want a new credit card, and I don't want to change electric providers. I know that, so I go ahead and get rid of that stuff. (Affiliate link alert -> A good paper shredder
is worthy investment.)
Simply heading straight to the trash can from the mailbox has greatly reduced our paper clutter. I can't tell you how many boxes full of "To Be Filed" paper clutter has turned out to be junk mail I NEVER had any reason to keep.
3. Go digital.
We were some of the last people we knew to start paying bills online. I'm not sure why we thought it was a hassle to set up, but we did. Hubby was hesitant, but once we started he became a HUGE fan. He would never go back. It took a while, but over time, we've taken advantage of the options to not receive paper copies of most of our bills.
If you're not doing this yet, ask your bank to help you get set up and to show you how to do it. They WANT people to go digital. I just noticed on a recent (PAPER!) bank statement that we were being charged $3 a month to get a paper statement! Ouch!
4. Opt out of stuff.
Over time, as we get various paper statements (not bills), I'll look to see if they have an option to switch to email statements. There are also various ways to get yourself off of mailing lists. If you want to look into that, go check out this post from my friend Taylor at Home Storage Solutions 101 about stopping junk mail.
There you go. That's how I have tamed (though not killed) the paper monster in our home. I have tried various filing systems over the years, but they've never lasted more than a month or so.
My new philosophy is that I'm okay with having so many FEWER pieces of paper to search through when we have lost something.
When. Not if.
My newest book, Decluttering at the Speed of Life is now available wherever books are sold!
Does even the thought of decluttering overwhelm you? Sign up for my newsletter and get my reality-tested decluttering solutions delivered to your inbox for free.
Save
Save
Save
Save
--Nony