Just letting you know up front that I'm going to use Amazon affiliate links to the tools that have made shower cleaning so much easier for me. 
In case you didn't know yet, my cleaning tips aren't based upon a love of cleaning.
Really, though, they're not based upon a hate of cleaning either.
My cleaning tips are from the perspective of someone who goes through life NEVER EVEN THINKING about cleaning until she knows the doorbell is about to ring.
I'm all about finding ways to combat my T.P.A.D. (Time Passage Awareness Disorder – a totally made-up-by-me problem) and my Slob Vision.
What works for me?
Associating tasks with things I do regularly anyway. Putting reminders IN FRONT OF MY FACE where I can't possibly miss them. Even though I still totally miss them sometimes.
This tip fulfills all of those requirements.
Keep a dish-soap filled, non-scratch dish wand IN THE SHOWER. Use it while you're in the shower.

Even though I figured out a while back that dish soap cleans my shower as well as anything ever did (while also not freaking me out by its chemicallyness), and even though I figured out a while later that the very best time to clean my shower is when I'm already in it, it took me an even longer while to actually act upon this solution suggested by so many of you.
There's not too much more to say. Having a non-scratch dish wand
already filled with dish soap
in the shower, hanging right in front of my face means I do a little scrubbing here and there while taking my showers. (Which I do every single day anyway.)
And the wand doubles as a pretend microphone, which is also totally useful in the shower.
You're welcome.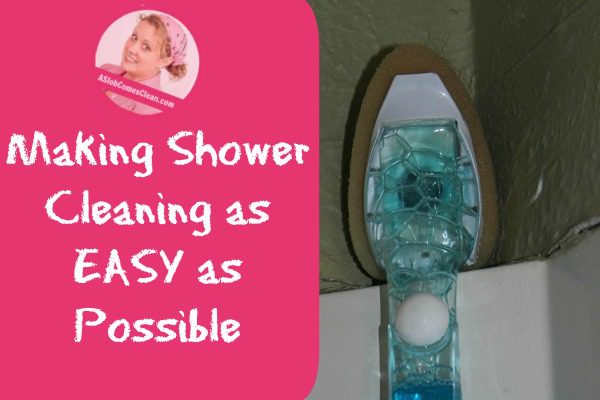 Save
Save
--Nony