I can't declare loudly enough how much I love pre-cooking chicken and ground beef. If you really want to cook regularly, but feel overwhelmed at the thought, cooking some basic meats ahead of time will change your life.
That's kind of dramatic-sounding, but true.
Think about it. The biggest time-factor in preparing most meals (even the easiest ones) is the meat. Thawing it, trimming it, cooking it, draining it, cleaning up the mess.
There are definitely some meals that need the meat to NOT be pre-cooked, but so many recipes work great! And as life gets busier as the kids get older (ummm, out of town basketball games??), I pre-cook more and more of my 40 lbs. of Zaycon chicken because that's what I turn to again and again for super-fast home-cooked meals.
I made a video. If you can't see it, watch it on youtube here.
How I Cook a Who' Lotta Chicken at Once to Freeze (And Shred It Super-Fast Without Carpal Tunnel Pain)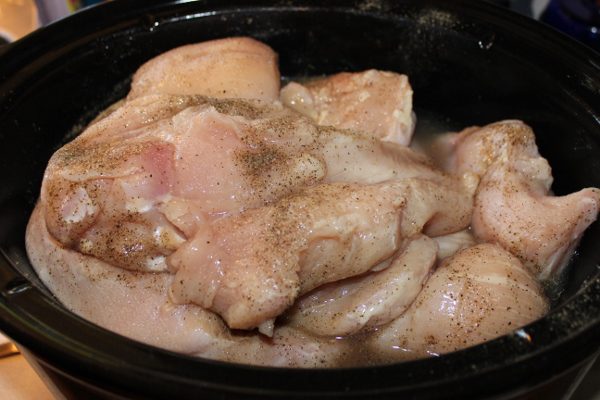 After I trim all the nastiness off of the boneless skinless chicken breasts, I place them straight into my CrockPot(s). I salt and pepper each layer.
I cook the chicken on low for 5-6 hours or until cooked through and falling apart easily.
Then, I shred them. All twenty-five pounds or so. In, like, less than ten minutes.
For real.
I've mentioned this before, but thought it deserved its own post (and video) because it's just so stinking cool. I saw the trick mentioned on CouponingtoDisney.com. She uses a stand mixer. But my stand mixer is inconveniently placed and I'm not hauling 25 hot chickens across the kitchen to use it.
Oops. I meant 25 pounds of hot chicken.
Anyway, I use my hand mixer.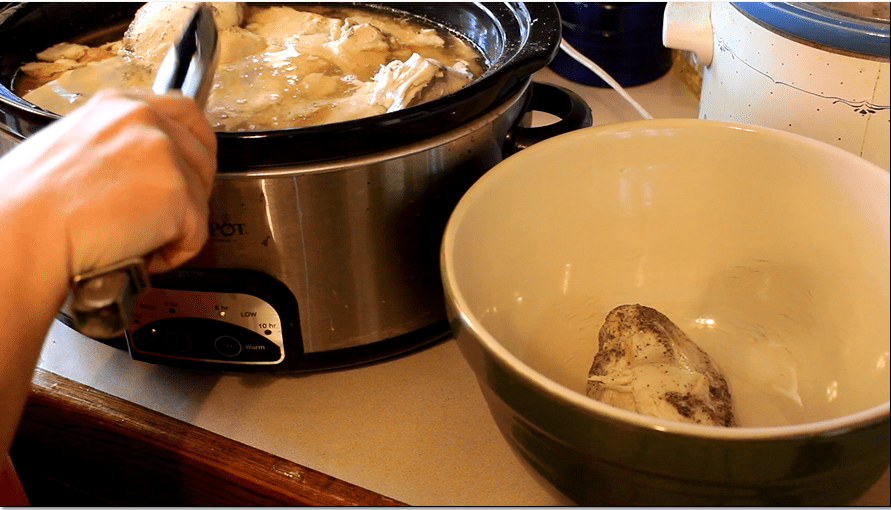 Remove the chicken from the hot liquid of the CrockPot. I don't intentionally add liquid when cooking the chicken. With the water from the just-rinsed chicken and natural juices, it just happens. The liquid is the reason you can't shred the chicken inside the slow cooker. Hot chicken juice flies everywhere and will burn you.
Trust me. I know this.
While the chicken is still hot, press the handmixer's beaters onto one of the boneless skinless chicken breasts and turn on the lowest setting. You'll have to hold on to the bowl so the handmixer doesn't get away from you (and to keep chicken from flying everywhere), but just keep moving to an unshredded piece until you're satisfied with the Level of Shred.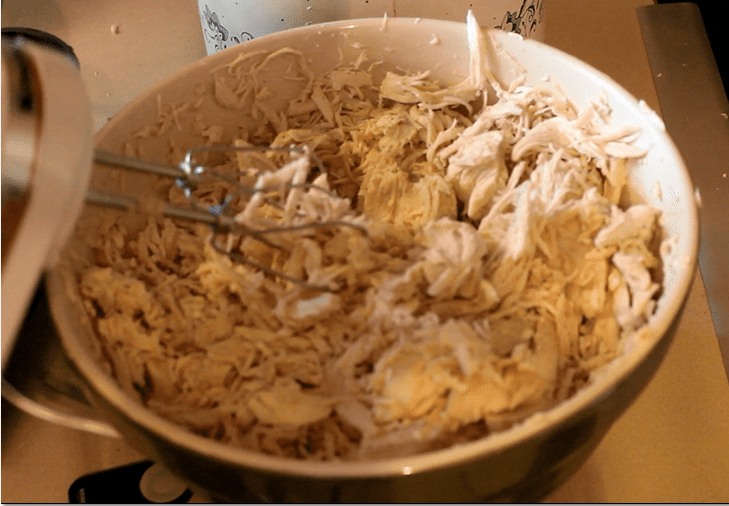 Warning: Know that this goes crazy fast. It's fun, so there's a real temptation to keep on shreddin', but you'll end up with chicken dust if you're not careful.
Once the chicken is completely cooled (you may need to spread it out on a cookie sheet to help it cool faster), put it in freezer bags. This last time, I had the brilliant idea to fill quart sized bags with shredded chicken and then fill up the remaining space with the broth from the crockpots. While this has kept the chicken moist, it has made breaking apart the frozen chicken more difficult. (MUCH more difficult.) Next time, I'll either try that again with significantly less chicken in a bag so the frozen chunks are flatter and easier to break, or only put one meal's worth in a bag so I don't have to break it apart at all.
So how do I use such a huge amount of pre-cooked, frozen chicken? Lots of ways! I use it in my chicken fried rice, chicken salad, tortilla soup, chicken and bacon sub sandwiches, creamy chicken and spinach enchiladas, chicken and black bean burritos, faux alfredo, white chicken chili and more.
Over the next few weeks, I'll share three unbelievably easy and quick meals using this shredded chicken. These are meals my family loves and requests regularly. Sign up as an email subscriber (it's free) to be sure you don't miss them.
Also see my tutorial and video where I explain where I get 40 pounds of boneless/skinless chicken breast and how I deal with ALL THAT CHICKEN!! Or just go straight to Zaycon chicken through my referral link.
And here's how I pre-cook ground beef!
 I am so sorry to say that it seems Zaycon has gone out of business. I say "seems" because the information I've seen says they've "suspended" operations and I don't fully understand what is happening. I'm so so sad about this since this will change how our family keeps our freezer stocked with meat. We've been ordering almost all of our chicken, bacon, and shrimp for them for more than five years. If you had ordered recently, I recommend that you call your credit card company or bank (for debit cards) to see what can be done. I've heard many people have had success doing this.
Save
Save
Save
Save
--Nony