Isn't "faux" . . . like . . . the best word ever?  It's a fancy way to say fake.  Whoever came up with that advertising idea (I think it might have been the cubic zirconium people . . . ) was a genius.
Anyway, I've casually rambled this recipe before in a post but thought I'd give it a featured/pics-included post of its own.
Ingredients:
One can Cream of Mushroom Soup
One 8 oz. brick of cream cheese
Optional:
Chopped/sliced/cubed/whatevered pre-cooked chicken
And . . . that's it.
Instructions:
Dump the cream of mushroom soup and cream cheese into a pan.
Use your  wooden spoon to break up the cream cheese.
Heat over medium or medium-low heat, stirring frequently, until cream cheese is melted.
Add partially thawed (I usually put it in the microwave for one minute at 10% power) pre-cooked chicken at some point.  The beginning, the end . . . it doesn't really matter.
Serve over pasta.
This is one of my family's absolute favorites!  And for a favorite to also be insanely quick and easy using ingredients from my freezer . . . is awesome! (If you're horrified that we use canned soup . . . read my guilt-trip here.)
So what's on our menu this week?
Well . . . it's VBS, and we're in baseball playoffs, so I'm going with all easy stuff this week.
Monday – Stir fry (using fresh chicken I cut up from my big Zaycon pick-up last week)
Tuesday – Salad with leftover grilled chicken
Wednesday – Mexican casserole
Thursday – Maybe . . . possibly . . . acorn squash that I got a few weeks ago and don't want to go bad before our vacation next week.  (I'm thinking of stuffing with sausage and rice – recipes would be appreciated!)
Use promo code PT20 to save 20% off your FIRST order Excluding sales tax where applicable. Offer ends 11:59 pm PST on 4/30/2017. Offer available to new orders only. Cannot be combined with any other offer or promotion. One promo code per order. Limited to one-time usage per household. Offer is non-transferable. Void where prohibited. Offer will be revoked if terms and conditions are not met due to partial cancellation of order.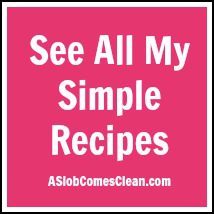 Save
Save
Save
--Nony