It's picnic season again!  Have you checked out my picnic ideas and recipes?
Just to be clear, I'm not talking about spreading a checkered blanket on the ground and spending the afternoon searching for cloud pictures in the sky.
I'm talking about portable meals that we can eat while watching my boys play baseball.
These chicken and bacon subs are SO easy.
They are based upon a recipe from the eMeals plan I've been using for a while now, but I changed them up a little.
Ingredients:
2 to 3 chicken breasts
Package of six deli rolls
One package of "real" bacon bits
Shredded Mozzarella Cheese
Optional:
Sliced Avocado
Ranch Dressing
Instructions:
The original recipe from eMeals says to cook salt-and-peppered chicken strips in a skillet. I did that the first time I made these, but this time I used pre-cooked chicken breasts that I had baked and frozen in bulk from my recent Zaycon order.
Using the pre-cooked chicken made this an assembly-only recipe.
Separate the deli rolls, and lay them on a cookie sheet.
Cover the bottom halves with a single layer of sliced, cooked chicken.
Spread the bacon bits on top of the chicken.
Cover with shredded mozzarella.
Put in a pre-heated 400-degree oven for 15 minutes or until the cheese is melted.
Optional:
Add sliced avocado and/or spread ranch dressing on the top bun.
Wrap in foil and head out the door!
These did great wrapped in foil, and my older son's sandwich was still warm when he ate it during the second game after 8 p.m.  (I made them at 5:15.
I put together individual bags of chips, and it was a great and filling supper.
Now to decide what to make for this week's suppertime game.  I'm thinking either pizza snowballs or tacos in a bag.
What's your favorite picnic meal?
This recipe came from the (affiliate link coming up now) Aldi Classic Family Meal Plan that I've been using from eMeals
since January. E-meals provided me with a subscription, and I have been really surprised at how much I've enjoyed using it.
Here is where I buy 40 lbs of chicken at one time for a great price (yes, that was an affiliate link!) and see how I manage 40 lbs of chicken here.
I am so sorry to say that it seems Zaycon has gone out of business. I say "seems" because the information I've seen says they've "suspended" operations and I don't fully understand what is happening. I'm so so sad about this since this will change how our family keeps our freezer stocked with meat. We've been ordering almost all of our chicken, bacon, and shrimp for them for more than five years. If you had ordered recently, I recommend that you call your credit card company or bank (for debit cards) to see what can be done. I've heard many people have had success doing this.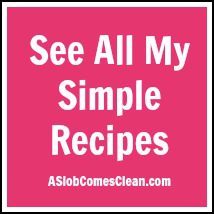 Save
Save