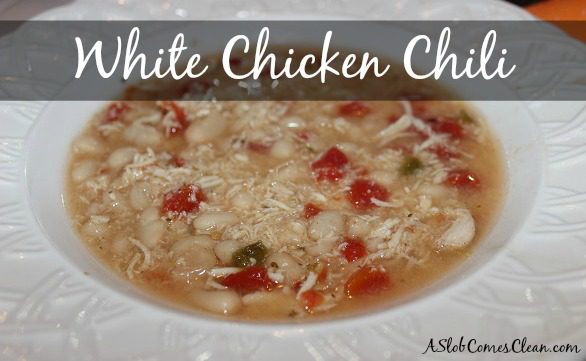 This post contains affiliate links.
This is an eMeals recipe that has made it into our list of family favorites. It's now one of the ones I turn to on days when something on the menu plan doesn't sound like something we'd eat.
Really, this White Chicken Chili is super easy and tastes great. It extra super-easy since I make it with shredded chicken that I've pre-cooked in the crock pot and frozen. That's one of the ways that we make the eMeals menu planning service work for us. I still save by buying meat in bulk and pre-cooking a lot of it. With the vast majority of the recipes, I can use these pre-cooked meats to make dinner prep even faster and easier.
Ingredients:
3 Chicken Breasts (I use about 2 cups of frozen, shredded, pre-cooked chicken)
1 1/4 c coarsely chopped onions (I use a shake or two of dehydrated onions)
1 teaspoon cumin
1/2 teaspoon oregano
1/4 teaspoon cayenne pepper
15 oz can chicken broth (I use 2 cups water and 2 teaspoons chicken bullion from Costco)
2 (15 oz) cans great northern beans
1 can tomatoes and green chiles (Ro-tel)
1 teaspoon garlic salt
grated cheese to top the soup (I use cheddar but the recipe calls for Mozzarella)
Instructions:
Dump everything together and simmer for one hour in a soup pot or in a crock pot for 4-6 hours. If you don't have the pre-cooked chicken, boil your chicken breasts first and shred.
Yum.
More of our Favorite eMeals Recipes:
EMeals is a meal-planning service that we use and all the links to eMeals in this post are affiliate links. I get the service for free as a blogger, but I would pay for it if I didn't because it fits our current phase of life very well. See how we make it work here. We use the Aldi Classic Family Plan, but there are all sorts of different plans.
Save
--Nony