Have you joined the Decluttering Party? See my posts about decluttering a kid's room, a kitchen, clothing and living areas.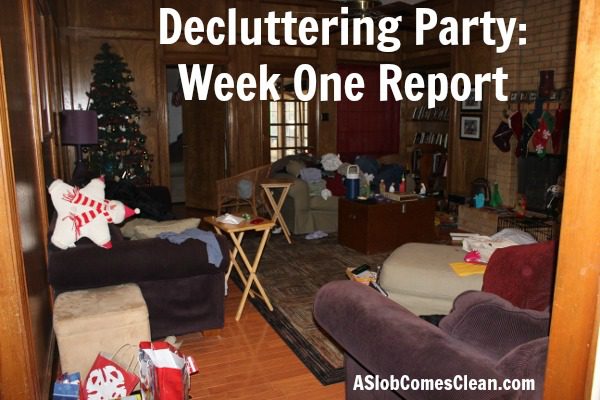 It's the first Friday of 2014!!
Have you been decluttering? If so, I'd love for you to share about your project(s) in the comments or by linking to a blog post on your own site that shows a specific project you did this week!
So what have I decluttered?
Well . . . it's been crazier than I expected. I'm actually writing this on Monday night, late, wishing I was already in bed.
But I'm determined to enjoy some internetless time with my family before the kids go back to school next week, so I'm writing about what I did on Monday.
I stuck to the Visibility Rule.
Oh, how I wanted to tackle my Master Bedroom. It . . . is . . . bad. Really bad.
But I resisted the urge and instead focused on getting our Christmas decor put away before we left town. A Christmas tree is lovely and welcome in December, but once January gets here, it's clutter.
I boxed and taped and covered and helped Hubby shove boxes up into the attic. And when it was over, the room felt sooo much better. Even though the only thing I had done was remove things from it.
I did practice the One In One Out Rule with games we got at Christmas. Games that hadn't been played since last Christmas were replaced with the new ones. I didn't have room for both.
Yes. That cabinet needs its own session, but this wasn't the time.
I also purged decorations that I found inside the boxes. Y'know, the ones that were never used this year. And that I'm pretty sure hadn't been used in several years.
Like these:
Those were from one of my Delusions of Craftiness periods.
Are you new to this Decluttering Party? See what it's all about here! Be sure to check out my decluttering page, my free printable checklists, my e-books (which are now retired), my podcasts my explanation of why I don't worry about being normal, and more about what you'll find here at A Slob Comes Clean!

For detailed guides, check out my books: How to Manage Your Home Without Losing Your Mind and Decluttering at the Speed of Life.
What are you decluttering this week?
Now share your own decluttering successes or failures from this week!
--Nony