Back when having my own home was only a vision in my not-terribly-realistic head, I dreamed of serving elaborate dinners and breakfasts and snack trays and such to my overnight guests.
Honestly, when I lived alone, and then when first married . . . I did.
I remember spending an entire newlywed Saturday making seafood gumbo for another couple, only to later add up the cost and realize that we had spent over sixty dollars on that home-cooked dinner for four.  And that was just the main dish.  The drinks, bread, salad, dessert . . . I'm sure in my pre-kids mind, those were free.
Also, in those days, we ate out regularly.  For breakfast, lunch or dinner . . . or maybe all three on a particularly fun day.
Now, though, as a mom of three who generally hosts others with kids, eating out more than once during a visit isn't practical.
Besides, the best times spent with guests are the ones around the table.  After the meal.  Talking well into the night because they aren't going anywhere.
However, spending all day preparing an elaborate dinner isn't always practical when you are hosting guests.
Freezer cooking to the rescue! Don't worry!  I'm not talking about casseroles.  Just by pre-cooking meats and other ingredients like rice or beans, you can have fresh-cooked meals ready in minutes.
Using pre-cooked ground beef, you can make spaghetti, mexican casserole, tacos, chili, hamburger pizzas, taco soup, pizza snowballs, etc.
Using pre-cooked cubed chicken you can make chicken fried rice, chicken with faux alfredo, etc.
One of our favorites is to use pre-grilled chicken breasts to make a fajita bar!
And then there's breakfast.  You can make sausage biscuits, bacon egg and cheese breakfast pockets, or pancakes to be frozen and thawed individually as needed.
Consider the difference in wake-up times between you and your guests. I admire people who can sleep past 7 and have taught their kids to sleep until 9.
My kids are up by seven. As in . . . we're lucky if it's that late.  I am fully aware that this isn't necessarily normal.  It works well for us, but is difficult when we stay with another family who sleeps later.  The great thing about these freezer breakfasts is that they can be prepared individually and as needed.  Show your guests where they are and leave a post-it note on the microwave with a reminder of instructions on how to re-heat them.  This way, even if you aren't up yet, your guests can find something to eat or to feed their kids without having to dig through your kitchen.
And even if you're planning to make a big breakfast later on, set out bowls and boxes of cereal for those who might be up three hours before the meal.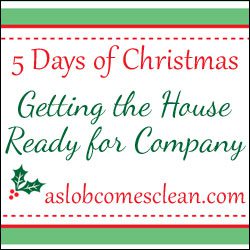 _________________________________________________________________________
Check out the variety of other 5 Days of Christmas series –
Feels Like Home – Christmas Traditions
Somewhat Crunchy – Christmas with Dairy Allergies
Spell Outloud – Children's Books
Mama's Learning Corner – Children's Crafts
Many Little Blessings – Edible Gifts
Sunflower Schoolhouse – Decorations
An Oregon Cottage – Christmas Cookies
Catholic Icing – Wishing Jesus Happy Birthday
The Traveling Praters – Traveling
The Homeschool Classroom – Gifts Kids Can Make
Mama's Laundry Talk – Laundry Gifts

_________________________________________________________________________