On Friday I mentioned over on my Facebook page that my normal friend had come over to help me clean my master bedroom.
You know on cartoons where there's one character who moves slowly while the Tasmanian Devil is a blur all around?  That's pretty much what it felt like.
Honestly, watching her was fascinating.  When I could get my eyes to focus on the blur.
Let me clarify a few things first, though.  I'm not sure I should keep calling her normal.  First of all, she likes to clean.  As in, she kept making these little squeal-ey noises when a new spot was sparkly.
And she's really good at cleaning.  I think she's a wonderful example of someone using their gifts to bless others.  She  does this often for new moms, sick friends, etc.
I guess my illness is Slob Brain.
Anyway, here are a few things I observed that I hope to process and work into my own deslobification process.
1.  She's fast.
Crazy fast.
First of all, she didn't waste time making deep sighs or standing there paralyzed, staring into the abyss that was my master bedroom.  She LITERALLY jumped on my bed and started cleaning the mirror that's behind my headboard.  The wall-size mirror that I've never cleaned.
Did I just admit to the world that one entire wall of my master bedroom is a mirror?  Supposedly, this design (created in the 80s) was called the "romance package" because the mirror is supposed to reflect the fire in the fireplace that's on the other side of the bedroom.
I know.  TMI.  I'll stop now.
Anyway, my point is that she got after it.  She didn't pause to make fun of my mirrored room or to brush the tears from her eyes when she realized how bad it really was.  She just got started.  Hmmm, what a concept.
2.  She did what the books tell you to do.
I've read in lots of different places that you should start in one spot and go clock-wise around the room.  Honestly, I didn't think they were talking about me.  My room was SOOOOO messy.  Surely, this wasn't the way to do it when you were dealing with three-feet-of-clutter?  I've always decluttered first, and then cleaned.
If I had time.  Time to clean, I mean . . . after I spent all that time decluttering.
She just grabbed something to dust with and started moving things and dusting, all at the same time.
3.  She was prepared.
She brought a cutesy carrying thing full of cleaning supplies.  Not because I don't have any, but because she's a big proponent of having the right supplies to make cleaning easier.  No self-righteous let's-do-this-the-way-grandma-did-it attitude there.  If something makes cleaning faster and easier, she's all for it. And by having everything in one cleaning-tote, she didn't have to stop between the bedroom and the bathroom.
OK.  I'm stopping here for today.  Tomorrow, I'll share a Part Two post with at least two more observations.
Here's a before/after of one area.  She was so fast, I didn't have a chance to get before pictures of all the sections.  Which is really okay . . . because they were embarrassing.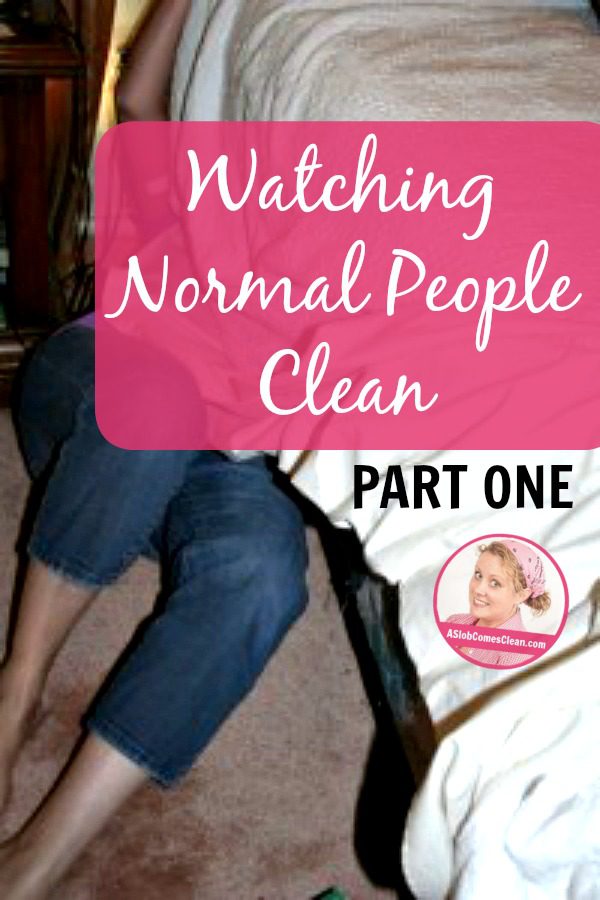 _______________________________________
Save
Save