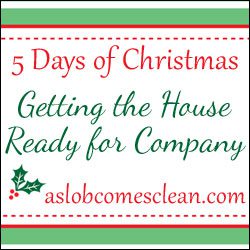 The kitchen is the heart of the home.
That's not just a warm-fuzzy saying to embroider on your dishtowels.  It's the truth.  One of my biggest adjustments to motherhood was realizing how much my family expects to eat.
Like . . . every day.  More than once.
When your goal is to create a company ready house, a thoroughly cleaned kitchen is a must. Guests expect to be fed, and most guests offer to help in the kitchen.  The cleaner the kitchen, the more relaxed everyone will be.
Now, before I start let me clarify that THE most important thing when welcoming others into your home is to simply . . . be welcoming.  If you only have time to wash the dishes and wipe down the counters, that's okay.  Relax and smile and share your food.  Memories will be made.
Sometimes, though, the motivation of an impending party or visiting in-laws makes you want to get your home in the best condition possible, and it's a great excuse to do a top-to-bottom kitchen cleaning.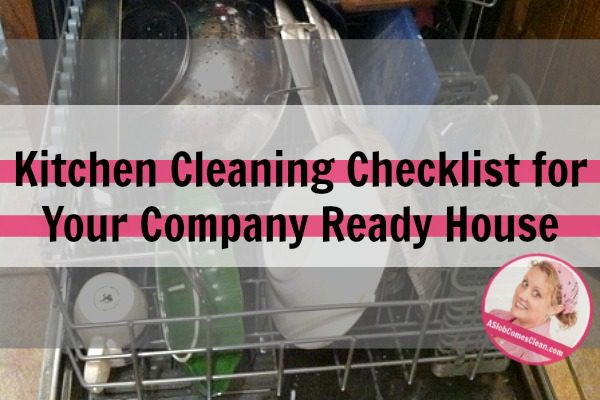 Here are the steps I use to thoroughly clean the kitchen:
Pre-Step 1.  Wash the dishes and declutter the countertops.
This is for my kindred spirits out there.  The most frustrating thing about most cleaning checklists is that they operate under the assumption that you've already done the basic daily stuff.  I'll admit that I made this list first . . . and then went and did it to see how it really worked.  I couldn't believe I had forgotten such an essential step.  I am sorry.
1.  Dust from . . . top to bottom! (My time: around 6 minutes)
Knock down cobwebs from the ceiling, dust the light fixtures and wipe down the tops of the cabinets and fridge.  No, food doesn't touch these things, but the perfect taste combination can be ruined by the sight of a dust-bunny at eye level for someone taller than you. By getting the dusting out of the way first, the following steps will take care of the nastiness that you just sent floating to the ground.
2.  Wipe down cabinets, walls, back-splash. (My time: 7 minutes)
It's the kitchen.  Things splatter and grease floats through the air, landing on every surface.  Depending on available time, you can spot-wipe or thoroughly scrub it all.  For this, I dip my rag into a sink-full of soapy water.  Since dishwashing liquid is "specially formulated" to remove grease, it works well.
Don't forget to wipe/scrub the top of the vent above the stove.  Mine gets a lovely layer of dust/grease on it that the dusting in Step One can't conquer.
For reference, I spot-wiped my dark cabinets and white back-splash.  Spot-wiping makes a huge difference.
3.  Clean the oven (3 1/2 hours) and microwave (9 minutes).
Somehow, these things are totally invisible to me until a helpful or dish-contributing guest opens them up.  Confession here:  I cleaned my oven today for the first time. We've lived in this house for five-and-a-half years.  (Please don't let this be the day my MIL finds my blog!)  And . . . it's self-cleaning.
To clean my microwave, I just put a bowl of water with a tablespoon of lemon juice or vinegar in there and run it for two minutes.  The steam helps loosen gunk and makes wiping out the microwave easier.
4.  Scrub the counters, sink, and stove burners. (a little over ten minutes)
Using the right cleaning product for your types of counter-tops, scrub them well.  Move everything off of about a three-foot section at a time, scrubbing all the way to the edges.  Replace everything in a section before moving to the next.  (Yes, that's a Flylady thing!)
I use Comet, which is okay for my countertops.  I find that even with wiping down regularly, they get stains that I can only get out with a product like that. I also use a toothpick or my fingernail along the edges of the sink to get up the grime that gets stuck there.
5.  Clean out (and off) the fridge.
I know.  It's one of my least favorite jobs too.  But when you have a bunch of helpful friends or family in your kitchen, there's no way to keep it hidden.  Might as well throw away the tartar sauce from last decade now.
While you're at it, glance over the artwork/spelling lists/school calendars that are displayed on the outside of the fridge and remove the ones that are out of date.  Wipe down the handles and other smudges.
6.  Wipe down salt/pepper shakers, olive oil bottle, etc. (3 min)
Those things get gross.

7.  Wipe down the trashcan. (Less than one minute.)
Irritating, right?  I mean . . . it's a trashcan!  But because it's a trashcan, people like me tend not to notice the nastiness that can stick to the sides of it.
And seriously . . . one minute?
8.  Sweep and mop.
Sweep.  Then mop.  No rocket-science there. I don't have a time for this (because I didn't do it today!), but it generally takes less than 25 minutes.
**(The next three steps are important if others are bringing dishes to serve at your house!)
9.  Put all of your serving utensils together.
It doesn't matter where, as long as you can give a specific location when someone asks for a serving spoon.  Even though, on a random Tuesday, it may not bother you to open three or four drawers to find what you need to serve the mashed potatoes, it might bother you to have to do it in front of your guests.
10.  Put "like" pots/pans and casserole dishes together.
Again, people may need these random items, and you don't want conversation to stop in the next room out of concern for all the banging going on in the kitchen as you search for that last clean skillet.
10.  Fill and set out commonly needed items.
Use trays or baskets to gather together your salt, pepper, hot pads, etc. and put them on the counter so your guests don't even have to ask.  Also be sure your handsoap, dishwashing liquid, and a clean washcloth or towel are all out at the sink. (If someone wants to do the dishes . . . let them.  It's okay.)
Like I said, the most important thing is that you welcome guests into your home. If you only have thirty minutes to work on the kitchen, see how quickly you can move through steps 1-6.  If you have all day, you can take your time and be more thorough.  From experience, I know that having a plan of attack helps.  It keeps me on track and lessens the chance that I'll end up using all of my time decluttering a kitchen drawer!
P.S. At several points (specifically 2, 3, and 4) I thought that there was no way I was going to be able to complete this today.  These tasks were taking forEVer.  Notice the highest time out of those three is only ten minutes.
P.S.S. Putting this into step-by-step written format was a fantastic exercise for my Slob Brain.  I plan to blog a behind-the-scenes post sometime next week!
Go here to print your own Kitchen Cleaning Checklist.
Tomorrow, I'll share ways to use freezer cooking to make the most of your time with overnight guests!
Save