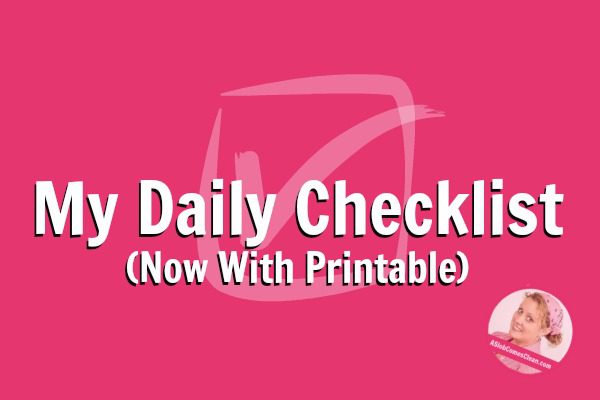 Oh, the Daily Checklist!
In the deslobification process I've been going through this past year, it's been my very best friend.
Basically, it's a list of the habits I've been working to develop in an effort to transform my home.  It's a chart of the things that seem effortless to normal people, but somehow baffled me.
It wasn't that I didn't know what needed to be done.  It just never occurred to me to do it before it got to the point where an entire day of work was needed just to make a dent.
Maintenance is the issue.  Decluttering I can do.  I can't count the number of times in my life that I've madly cleaned before a party, loved the way my home looked, told myself "I should really keep it this way," and then looked up three weeks later to suddenly see the huge mess back again.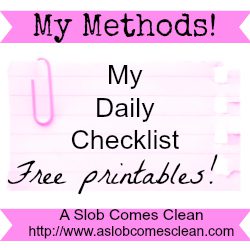 My daily checklist has kept me on track.  If I find that things are slipping, if I start to feel out of control, I can grab my checklist and physically mark it off as I do my tasks.  If I get through them all, the house looks better, I feel better, and I have hope to keep working on this process.
So, I'm sharing my checklist in printable form.  I've been a little hesitant to do this in the past.  The reason is that it's MY daily checklist.  I don't mean this selfishly.  I mean that many of the things on it are my own personal issues.
For example, I have "close cabinet doors" on the list.  I doubt this is a universal-slob-problem.  It's my problem, so I needed it on the list.  I also have "check bathrooms for clutter."  For someone who naturally puts clothes in the hamper and hairbrushes back in the drawer, this probably seems strange.  For me, it's a way to train myself to see clutter before it gets out of hand.  Make sense?
I'm linking to two versions of my checklist.  Mine that I currently use, and one that has only a few things on it, and mostly blank spaces.  Neither are fancy.  They are just tables I made in Google Docs.  You could easily make a prettier one.  But I know that since I'm all about excuses, having one to print out "just for now" would help me, since waiting-until-I-have-the-time-to-do-it-right is often one of my downfalls.
I'm linking to both, but if I were to give advice (if you read regularly you know I try to avoid giving advice), I would tell you to print the one with all the blanks.
When I began this journey, I only focused on one thing . . . keeping dirty dishes under control.
That was it.
The house was a disaster and there were SO MANY things that needed to be done, I had to focus on one to keep from getting overwhelmed.  When that one started to feel natural and within my control, I added another.  I think it was "sweeping the kitchen everyday."  In the Build Your Own version, I have only included making the bed, running the dishwasher before bed, and emptying the dishwasher first thing in the morning.
For me, those three things were the foundation-habits I needed to begin working toward having an orderly home.
Nony the Slob's Daily Checklist
Build Your Own Daily Checklist
Save