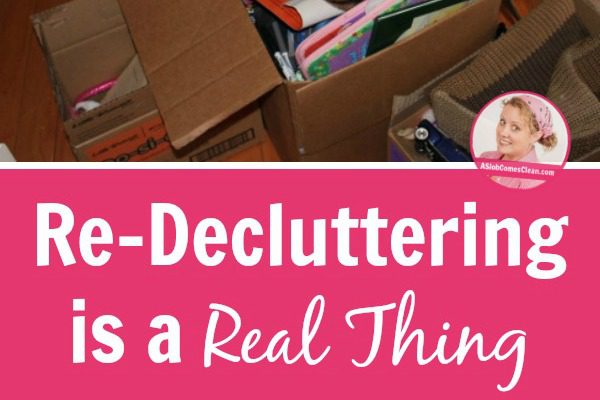 In case you're new around here, let me explain something. I truly believe the #1 thing I have to give to my kindred slob spirits is permission to keep going.
Photo-proof that "after" photos turn back into before photos, and it's okay to tackle that same space again instead of throwing my hands up in the air and declaring there's no point in even trying.
And honestly, I have grown to love the wonders of Re-Decluttering as an actual decluttering strategy. As a thing. A real thing that works for my Slob Brain.
Once upon a time, I believed that once-and-for-all could actually happen. That there was a totally-not-mythical time in the future where my house was going to be decluttered.
Completely. Forever. And always.
But perhaps you've read other posts where I decluttered my daughter's room and celebrated the after pics and marveled at the happiness she experienced, playing on her clear floor.
And yet those boxes in the picture above are full of things we pulled out of her room last week.
Those boxes are full of things she once believed she couldn't live without. The brown woven (bottom right) purse was a prized possession purchased with her own quarter at a garage sale. The pink-fuzzy dog carrier was totally and completely and justifiably useful the last time we considered donating it.
Most of the books that made it onto the "Like-It" shelf last time were purged with zero angst this time around. The pinwheels that were full of possibilities and way-too-cute-to-not-keep a year ago had shown themselves to be awkward, hard-to-find-a-place-for topplers. Nobody likes a toppler.
These examples demonstrate what I've personally found to be true over and over (and over) again through my own deslobification process. When I stress and agonize and fret over something and therefore decide I can't possibly declutter it, the next time I come across it in a decluttering project, my decision is generally angst-free.
One of two things happens. Either I decided to keep it and I put it to use! Now, it's OBVIOUSLY not clutter.
Or I never thought about it again, never used it, and now it obviously IS clutter. When that happens, my stomach doesn't hurt at all and I don't even groan a little bit. In fact, I generally get this delicious heartless feeling as I pitch it into the Donate Box. I might even laugh scornfully at Me From A Year Ago Who Was Sure My Life Would Be Ruined if I Didn't Keep It.
(Yes. I have issues.)
Now, we're enjoying my daughter's clean, spacious, play-in-able, invite-a-friendable room. And since I know (from way too much experience) that each time we purge her room, it stays clean a little longer than the time before, I look forward to enjoying it for quite a while.
What is your experience with re-decluttering? Isn't it so much easier the second time you tackle a space?
More decluttering posts:
My Two (ONLY Two!) Decluttering Questions
How to Declutter Without Making a Bigger Mess
Podcast (aslobcomesclean-comfeeddailyaudioblog): Play in new window | Download
Subscribe: RSS