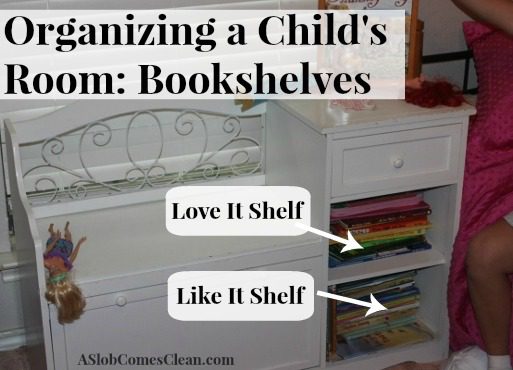 Do you recognize that bench/bookshelf? The one I "got rid of" almost two years ago.
I did remove it from its chronically-piled spot by the back door. It sat in the garage for a while, in my entryway for a while, and back in the garage.
I had the idea to put it in my daughter's room. The main reason I don't love it in other spots is that it's small in scale.
So a few weeks ago, I decided to finally move it. My daughter was thrilled with the idea, even when I said that we would be removing her current bookshelf.
I explained how we would do this. Just like when the boys decluttered their bookshelf, she would choose her favorite books to put on the shelf first. Anything that didn't fit couldn't be kept.
That's the "contain" er concept in action, people.
If she found another book she loved after the shelf was full, she would have to remove an already-chosen book to make room.
That's the one-for-one rule in action, folks.
It went well. (Except that the shelves weren't meant for books and wouldn't allow most of her books to stand up . . . )
In fact, we went ahead and divided any books into a Like It Shelf and a Love It Shelf. This made the one-for-one rule even easier to follow when we came upon a forgotten favorite.
I believe I might make my own Like It and Love It Shelves somewhere.
Save
Save
--Nony