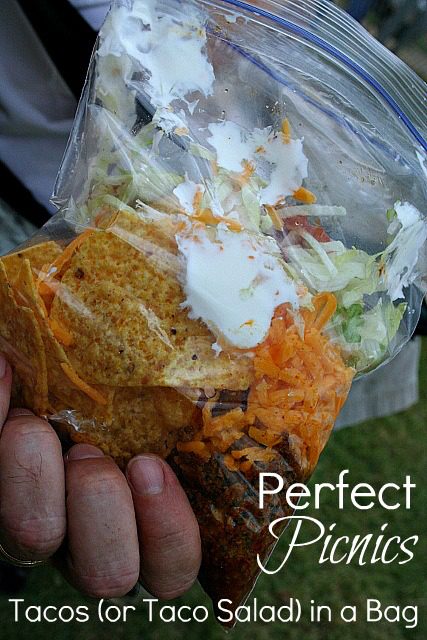 I loved your suggestions for picnic meals, and last Monday tried a version of the Tacos in a Bag or Frito Pie that were suggested.
We . . . loved these.
Here's how I made Tacos/Taco Salads for our Baseball Night Picnic:
(If you're a kid and think any meal with the word "salad" in it is likely to be gross, call them Tacos in a Bag.  If you're over the age of 15, add extra lettuce, call them Taco Salads, and tell yourself you're eating a little more healthfully.)
First, I defrosted  some pre-cooked ground beef and seasoned it with taco seasoning.
Then, I packed the beef into a container and filled quart sized bags with individual ingredients.
We brought salsa, shredded cheese, sour cream, shredded lettuce and tortilla chips.
I chose to put just what we needed into the bags instead of bringing entire containers of ingredients.  (I generally don't think to empty the ice-chest until the next time we need to use it . . . so I didn't want leftovers!)
I also packed up forks, napkins, and one quart sized bag per person.
At the game, I let people choose what they wanted in their tacos/taco-salads, and for the sake of messiness and Mama Sanity, I loaded up each bag.
I instructed that they crunch up their chips and smush around their bags until they achieved the consistency they liked.
Then, I loaded my own and declared that no one could have seconds until I had a moment of peace to enjoy mine!
And I DID enjoy it.  As my husband declared, "These are REALLY good."
Taco salad is simple, but . . . having this as a real meal at the ballpark instead or nachos and popcorn just tasted so good.
Eating out of a plastic bag isn't EASY easy . . . but I do believe it was simpler and more kid-proof than balancing plates on our knees.
Have you seen my other picnic ideas?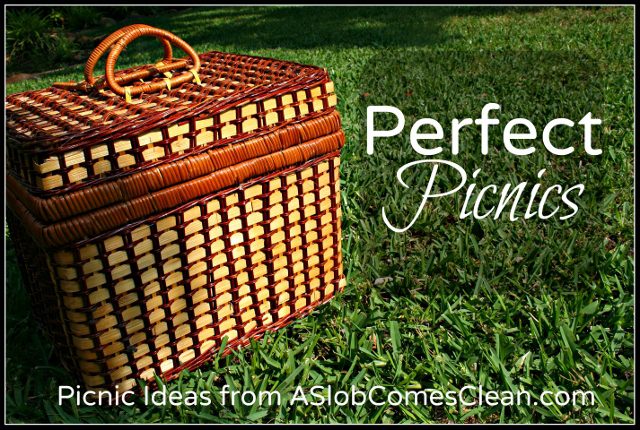 And here's our menu for this week:
Monday – Sub Sandwiches (Last week's game with this picnic was rained out.)
Tuesday – Chicken Parmesan Casserole
Wednesday- Eat at church
Thursday – Pizza Snowballs
Friday – Out to eat
Saturday – Grill out
I'll be linking this up over at Menu Plan Monday.