If you've been keeping up with me on Facebook, you know it's been a crazy week.
Crazy as in . . . icky.
Icky as in . . . we all had a vicious stomach virus.
My daughter started throwing up on Sunday morning, and threw up 9 times.  Nine.  No, this wasn't an I-don't-feel-so-well thing. It was an is-there-something-evil-living-inside-me-that's-determined-to-get-out? thing.
I kept the boys out of that bathroom, did some basic disinfecting, and lectured everyone on not drinking after one another or licking shoes or such.
(You'd think they're too old for the shoe-licking lecture, but I always try to cover my bases.)
Monday happened, and she felt better. She hadn't passed the 24-hours-puke-free mark, though, so she stayed home from school.
Monday evening, Hubby came home from work "not feeling so good" and barely made it through the first half of our first baseball game of the night. He arranged for friends to bring our Suburban back for me and rushed home. (NObody wants to puke in those baseball field potties!)
We got home at 9:30 and kid #2 went down. At midnight, it was my turn and at 2 a.m. my 11yo joined the chorus.
It was a horrible night.
So Tuesday was a Family Sick Day as we all acted like zombies. I could barely move.
Tuesday night, I began ritualistic doorknob/lightswitch/ice-and-water-in-the-fridge-door disinfecting.
The kids' bathroom was the worst. I tried to get every splash-and-splatter, but it was bad. Somehow, in a sleepy stupor, one of the kids had rationalized it was fine to aim for the floor just to the side of the toilet instead of the toilet itself.  Obviously, that had to be cleaned up immediately (by an about-to-be-sick-herself mama).
But today, I hauled out the mop bucket and thoroughly re-cleaned that bathroom floor and wall. (Yes. I mop walls sometimes.)
It JUST SO happened that a few weeks ago, Clorox® sent me a coupon and information and agreed to pay me for my time to do a review of their new Concentrated Clorox® Regular-Bleach anyway.
That's good timing.  Not the kind of good timing you ever want to see happen again, but good timing nonetheless.
Basically, the new concentrated stuff is exactly what I've always used when I enter into a War on Germs, but in a smaller bottle and you use less of it to do the same jobs. The directions on the bottle make it clear about the new recommended amounts, which is good since I'm a creature of habit.  (Not always good habits . . . )  According to Clorox, it's also easier to use in HE (high-efficiency) washing machines and improves whitening of clothes.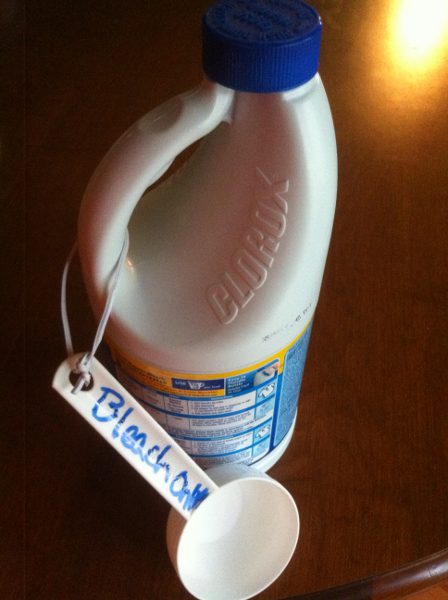 Since the concentrated Clorox® calls for 1/2 cup per gallon, I found a measuring cup I don't often use (since I have two more I like better . . . ), labeled it "Bleach Only" and attached it to the handle of the bottle.
Now, I'm feeling better about our germ situation. Not completely un-paranoid (since I'm sure I missed something), but better.
And my favorite thing about the new Concentrated Clorox® Regular-Bleach? The bottle is smaller, so it fits PERFECTLY on my skinny-rolling-shelf in my laundry room!
Disclosure: I received a coupon for Concentrated Clorox® Regular-Bleach and information from Clorox, and payment for my time spent reviewing the product. All germ issues, pukey bathrooms, experiences and opinions are all mine.