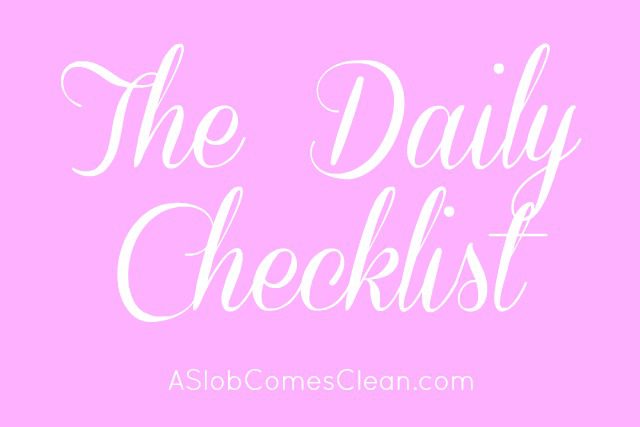 Why I have a daily checklist:
The original tagline for A Slob Comes Clean was: Figuring Out Why I Am This Way, and What I Can Do to Change.
Truly, my messy house was a mystery to me.  For an intelligent, successful-in-every-other-area-of-life person, the frustration I felt over the fact that my house could go from party-ready to total-disaster in a week flat was overwhelming.
Even more overwhelming was my inability to notice what was happening during that week.  It truly felt like I woke up to a messy house, and I couldn't figure out how it got that way.
It was a mystery.
The good news is . . . I've solved the mystery.
The bad news is that unlike Encyclopedia Brown
who gets to bask in the glory of his successful detective work and write "The End" . . . my story never ends.
Even though I've figured it out, I still have five people living in my house who expect to wear clean clothes and use plates, forks AND glasses every single day.
Therefore, my Daily Checklist is my best friend.  But the kind of best friend who gets on your nerves sometimes.
I think the reason my checklist is successful for me is that I didn't use someone else's list.  I looked around my house, identified the consistent problems, and tackled them one at a time.  In fact, I didn't even realize I was developing a daily checklist at first.  I just started doing the dishes.  Then, I added one new thing to focus on each week.
And that's what it's all about.  Focus.  Making myself see the things that consistently escape my Slob Vision.
Having a Daily Checklist doesn't mean that my house is perfect all the time. I still struggle way more than normal people during busy periods of life.  But the fact that the mystery has been solved means that I no longer feel helpless and bewildered. I know that I just need to pick up that sheet of paper and carry it through the house as I do the tasks and check them off.
Some Daily Checklist links:
(Just click on the pink to get to the corresponding post.)
Here is the overall concept behind my Daily Checklist. The post includes a printable version.
I've learned that the number one key in keeping my home out of disaster-status is running my dishwasher every single night.
Along those lines, emptying the dishwasher is as important as (if not more than) running it.
Normal people may not need to sweep their kitchen every single day, but I do.  And it's not really about the sweeping.
A Daily Pick-Up is my least favorite task on the Daily Checklist.  And yet . . . it's the one that makes the biggest difference.  Go figure.
I have to put "Close the Cabinet Doors" on my daily checklist. Yes.  Mmmm-hmmm.  It's all about making conscious decisions about the things I do (or don't do) automatically.
Even though only a select few have ever seen my master bedroom . . . I've realized that making my own bed is key.
See all posts labeled Daily Checklist.