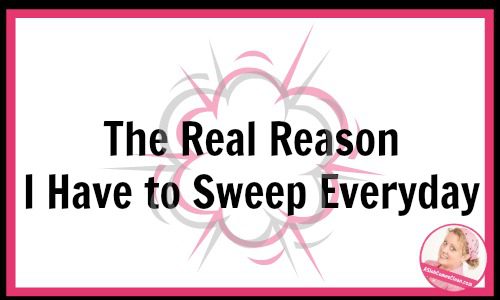 Last fall, just a month or so into my new way of life, I had a conversation with an admitted "neat freak" friend. Housekeeping was the subject, and I mentioned vaguely (as has become my habit with people who know I struggle but haven't been allowed into the inner circle of people who know about the blog), that "I'm doing better." When she asked what I'm doing differently, I mentioned my daily tasks including sweeping the kitchen every day. Her response was that she doesn't even do that.
But a neat freak notices when the kitchen needs to be swept. Actually, a normal person probably does too. But a slob does not. I can't just do it every couple of days "when it needs it." By the time I notice that it needs it, my family is wading through literal trash.
I took a picture of my "real reason" for having to sweep, but I'm afraid my trusty little camera is dying, and I couldn't get it uploaded. I have another camera, but now the "reason" is no longer there to photograph.
Picture this. A 5 foot long by 3 foot wide pile of Sunday newspapers, spread between hubby's and my breakfast chairs. A glaring mess to normal people. To me, a minor annoyance, to be dealt with "later." I'll be completely honest here, and admit that pre-blog, there were times when our once-a-month recycling pick-up day would come and hubby would remove multiple weeks worth of newspapers from that spot.
But making myself sweep daily, or even almost daily, makes me see the big pile of trash. The pile that could sit there indefinitely unless I make a conscious effort to clean the floors. Even I can't justify sweeping around trash.
It's like Flylady's concept of keeping your sink shiny. Although I don't shine my sink daily, there is something about changing your way of thinking. Instead of thinking of the overwhelming task of doing dishes everyday, think instead of keeping the sink free of dishes. In truth, it's the exact same thing, but something about the slob-brain requires us to find a different way of viewing it that works better for us.
My point is that daily sweeping is about more than making gratifying little piles of dirt, grated cheese and paper scraps. It's about making a habit of looking at the floor, and seeing it realistically.
And now for my daily checklist:
Stripped bed and washed sheets.
Finished one load of laundry.
Emptied dishwasher.
Cleaned kitchen.
SWEPT kitchen.
Hung up clothes in master bedroom.
Checked bathrooms for clutter.
Last night I:
Put out clothes for boys.
Ran dishwasher.