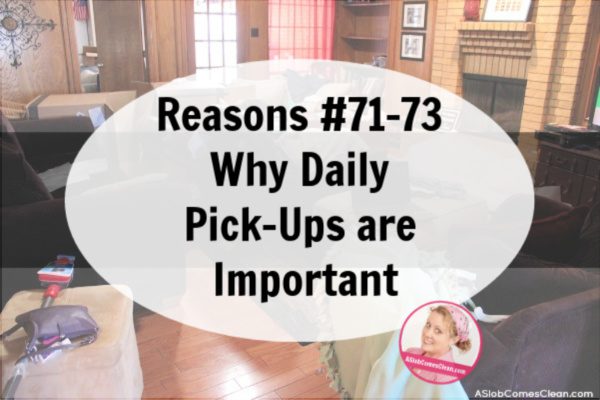 Don't search the blog for numbers one through seventy.  I've written quite a bit about how much of a difference having a Focused Daily Pick-Up Time makes, but I haven't been numbering them.
I used artistic license to emphasize that there are just so many reasons.  And "Reasons Ba-jillion and Ba-jillion-and-One" sounded less official.
If I cussed, I'd probably have said, "More Reasons Why Daily Pick-Ups are So Blankety-Blank Important."
But I don't.
So I didn't.
(But it would have been my favorite option if I did.)
If you've stayed with me over my excessively whiny period of the past few weeks, you know I'm struggling big time to keep the house from chaos since my schedule has changed.
Today I ended up not being in such a hurry because I have a sick little boy and had to cancel our guests. My daughter was devastated to miss out on her playtime (and I have completely lost hope that "the sheet" will ever leave our home), but it was nice to be able to take my time and focus on Picking Up.
Reason #71:
Grapes.
Left in an easy-to-forget-we-used-that-bag-for-our-picnic-last-week-when-it's-laying-on-the-floor-with-other-random-items picnic bag.
Our picnic was exactly seven days ago today.  Obviously, I should have done a daily pick up at some point during those seven days, but I'm just thankful I didn't wait longer.  Much longer.
Like I would have pre-blog.
Reason #72:
Stuff I save can't save the day when it's forgotten in the middle of a pile.
In both yesterday's table-clearing and today's Pick-Up Time, I found packets of creamer.  These packets have a place and a purpose.  But since they weren't in their place, they couldn't fulfill their purpose . . . and I had to use skim milk in my coffee one day this week when my monster-sized bottle of powdered creamer ran out.
NOT the same.
Reason #73:
Hideous stuff.
I had it bagged up and at the door on Tuesday morning, ready to be taken out for the trash.  I'm guessing the fact that there was clutter everywhere caused it to blend in, and kept hubby from realizing it was trash.
Somehow, around Wednesday or so, someone got into it and it was strewn across the floor.  And yet, because of the other clutter, I couldn't muster the energy to pick up AND sweep up.  Or the energy to figure out who was responsible, or the mental-energy to remember to have the kids clean it up.  Totally lame excuse, I know.
MUST adjust to new schedule.
MUST make Focused Daily Pick-ups a priority.
CANNOT let it keep getting this bad.