Happy 2016!!!!
I'm putting links to the five days of non-overwhelming decluttering tasks in one place so you can work through them at your own pace!
Note: Each person, each home, each situation is different. You might work through all five days in an hour or you might need a few months to get through Day One.
Whatever you need to do, do it. We all understand around here. (Well, we don't really understand people who can get through it all in an hour, but we welcome you anyway.)
Day Four: Declutter in Order of Maximum Impact
Sign up to get new blog posts delivered straight to your inbox here:
Need more inspiration?
See my decluttering tips, tricks and stories (with totally real before and after pics) here.
If you're desperate to declutter, you need my new books, Decluttering at the Speed of Life. Or maybe you'd prefer the 5 Day Clutter Shakedown. Find out the details here.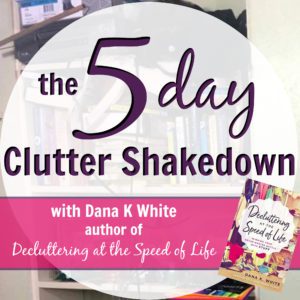 --Nony