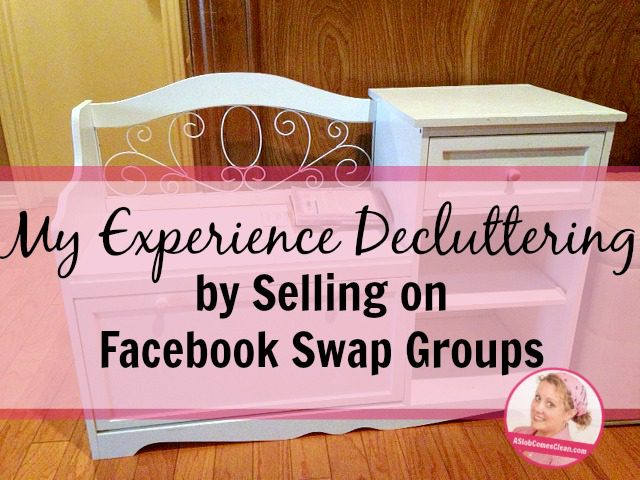 I've come a long way since the days when every item in my home had dollar signs attached to it in my brain. Selling on eBay was fun, but it did warp my view of decluttering. Things sat in my home long after I'd decided to get rid of them, waiting for the time/energy/season to put it up for auction.
I'm now a huge fan of donating. Stick it in a box and let someone else sort it and get it on its way to a new home.
But local Facebook swap groups or online garage sales are a big thing these days. They come across my feed and suck me in. I have friends who have sold huge amounts of stuff this way.
My main reason to not utilize them was the frustration I experienced when I sold things on Craigslist. Unlike eBay, where an auction winner is technically required to complete a purchase, you can go back and forth emailing random people who claim to be interested in what you're selling, but really aren't. You can spend forever arranging a pickup only to have them not even show up. When you go back to the second buyer, they're no longer interested.
But maybe Facebook groups would be different?
Over the past year, I've tried selling a few things. I could say I was doing it as an experiment to share here on the blog because I'm a super-committed Slob Blogger, but it was really because I saw dollar signs again as I purged. (It happens.)
The first thing I listed was "the bench." If you've been around a while, you know "the bench." The white one people love. I loved it too, and this is why each time I decluttered it, I ended up bringing it back into the house and trying it in a different place.
It's cute, and should be functional, but it wasn't. It just wasn't.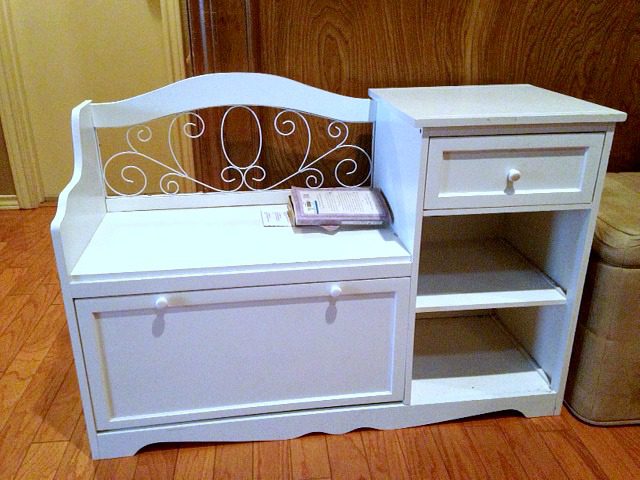 I decided it was a good thing to sell. Some of you offered to buy it every time I mentioned it on the blog, but I needed it picked up from my house. I wasn't about to ship it, and I needed it gone NOW.
One weekday morning, I listed it in a Facebook group for $15.
The comments started coming. The messages started coming. People wanted that bench and they were willing to pay more than $15.
But I did the right thing and sold it to the first commenter. This was fine since I'm a Super Mature and Experienced Declutterer, but I felt the sting of knowing I could have made more money.
That's a unique challenge of selling in a FB group. People see other people's comments. They know when they're the first commenter, and they get kind of nasty about people who don't sell it to the first commenter who is willing to pay the asking price. I've seen it happen.
When the buyer asked where we should meet, I glanced at the bench and groaned. I just wanted it gone.
I didn't want to get murdered or anything, but hoisting that thing into my Suburban, by myself, and then helping her hoist it into her car (where it might or might not easily fit) stressed me out.
I took advantage of Facebook and checked her out. She lived in my town. We had quite a few friends in common, most of whom are perfectly sane. I gambled and told her my address. She gambled and showed up.
No one died.
It was a good experience. Within a few hours of deciding it was FINALLY time to let go of that bench, I had cash in my pocket and space in my home.
So when we decided to get rid of a monstrous TV, I listed it in the same group.
Crickets.
No one wanted that ridiculously heavy, at-least-15-years-old, perfectly working thing. Even for the low, low price of five measly dollars.
Seriously.
I also posted a basic wooden table. The kind you tell yourself you could definitely sell (someday, while it sits in random places waiting for someday to come) because it's exactly the kind some crafty person somewhere would love to paint. Yes. Somebody would totally want it.
Somebody was nowhere to be found. Crickets, again.
Days later, a commenter wanted to know the measurements of the TV. By then, I didn't care one little bit and couldn't be bothered to find the measuring tape. I didn't even answer. I opted to walk around the stupid thing for another month (or so) until we begged someone to take it for free at my daughter's garage sale.
(Note to self: write a post about how your 9yo daughter suckered you into having a garage sale . . . )
I didn't post anything else until my boys and I were cleaning their room at the end of the summer. A few things they'd outgrown seemed like they might be worth the hassle.
First, a fart gun.
Right. It's what I said. It was still in perfect condition (for a fart gun . . . ). I posted it for $3.
Evidently, Facebook Group Buyers like cute white benches and fart guns. Everyone wanted that thing, and they were willing to pay more than $3. Again, we went with the first commenter since we're not jerks. But even though I'm mature and can handle it, 11 and 13 year old boys tend to be a little resentful when their mama didn't properly value their fart gun.
I arranged to meet the person in a grocery store parking lot at 5:00 p.m.
I also posted a toy WWE championship belt. It was a prized, saved-up-for possession the boys bought a few years ago, but they agreed they were over it now. Because they had once been obsessed, I thought the response would equal the Fart Gun Mania we'd just experienced. I asked for $5.
Ummmm, no.
We finally had one response, and I arranged to meet her in the same parking lot at the same time as Fart Gun Lady.
I was proud of myself, the boys were excited about their money, and life was good.
And then, that afternoon, around 4:30, I remembered I needed to run to the store. Not the store where I had arranged to meet the two buyers.
I went to the (other) store. I took my time. I bought what I needed to buy. I enjoyed walking around kid-free.
I got in my car, and leisurely checked my Facebook messages.
There were several. From the two buyers. "Which car are you in?" "Are you here?"
And, "I have to leave for a meeting at my child's school."
I had completely forgotten.
I drove as quickly as I legally could. (Almost.)
I sold the Fart Gun, but the belt buyer was long gone.
She never answered my offer to meet her somewhere else.
So, basically, even though my eye-rolling, heavy sighing hesitation about arranging these kinds of sales was that I didn't want to waste my time with people who didn't show up when they said they would, I ended up being that person.
Ugh. I felt awful.
So would I do it again?
Hmmmm. Maybe. On certain things. Depending on the mood I'm in at the moment when I declutter.
When it works like it did with the bench, it IS easy. I like that it's local. I like that it's somewhat immediate. I like that I can post a thing here and there straight from my phone and donate the rest. I can throw that thing in the Donate Box if it's not gone by the time the Donate Box leaves the house.
Sometimes, I feel like going through hassle for a little money. Sometimes, I don't.
I'd love to hear your experiences selling in these kinds of groups. Love it? Not so much?
Other posts you might like:
My Changing View of Stuff and Value
Why I Don't Care Who Sells My Stuff
Save