My 7yo daughter has been asking if we could PLEASE have a garage sale.
Pretty please?
Her reason? Garage sales are just so much more fun than donating.
She has fond memories of waking up on a Saturday morning and coming out to the garage to find all sorts of lovely people milling around and her mom and dad wheeling and dealing.
My memories are slightly different. I remember staying up late and getting up really, really early. Oh, and the weeks of prep before. And spending a chunk of the earned cash on takeout for dinner because Mama was exhausted.
Let me be clear that I'm not knocking garage sales. At all. There was a time in our financial lives when having a garage sale meant we could take a little (cheap) weekend trip that would have otherwise been impossible. Or buy Christmas presents.
And as a former fanatical eBay seller, I have complete respect for the work that goes into selling used stuff. It's not easy, and is a legit way to earn money when you need it.
Because this was how I used to earn spending money for the family, it has taken me a long time to change my view of the value of stuff.
I now value a lack of stuff.
I value NOT having to figure out where to put something while waiting to sell it.
I value being able to walk across a room without doing fancy kicks or slides or contortions to get around whatever is there temporarily.
I value parking in the garage because I value NOT having to scrape ice off my windshield. Or warn kids to be careful that the hot metal part of the seatbelt doesn't touch their skin.
I value not waiting to hear back from that person who said they would like to buy whatever I'm selling. I value not being disappointed when the second person who said they wanted it no longer wants it when I check again because the first person never emailed me back.
I value not re-posting that same item three months later, after having stubbed my toe on it sixty-eight times.
So when my best friend and I were shopping for my new chairs and she mentioned that she really needed a loveseat, I immediately offered mine. The one I'd need to get rid of to make room for my new chairs.
Yes, a few fleeting thoughts flew through my Slob Brain:
What if I could sell it?
What if I could find a spot for it somewhere else in the house??
What if I neeeeedddd a loveseat somewhere down the line???
Those thoughts and slight feelings of panic were real, but I'm thankful I pushed them down.
Because this feeling was a much better one: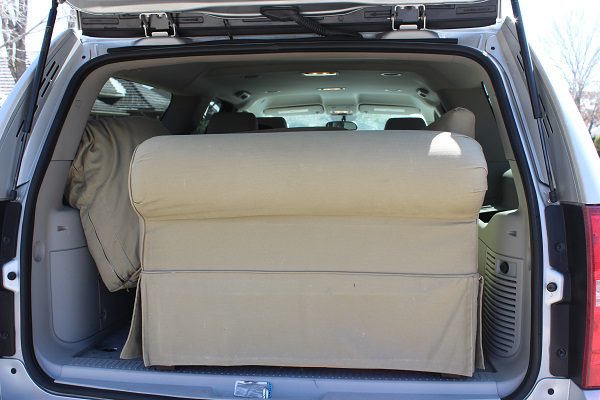 Bye-bye loveseat. Go enjoy your new family.
Even in those years when I was a seller, I admired those people who were quick to give something away with no concern to what they might get for it or what they might do with it.
I so hope I'm turning into one of those people.
My newest book, Decluttering at the Speed of Life is now available wherever books are sold!
Does even the thought of decluttering overwhelm you? Sign up for my newsletter and get my reality-tested decluttering solutions delivered to your inbox for free.
Save
Save
Save
--Nony