Ahhhhh, that cute bench.
That bench I ordered from eBay years ago, and was sure would solve our shoe storage issues.
Back in 2012, I finally accepted that instead of collecting shoes, it was collecting stuff. It was a catch-all spot that I couldn't keep clear, so I got rid of it. That was a wise decision. I haven't missed it in that spot.
It sat in my garage for a while, and I eventually tried it in my entryway. I never liked it in that spot, so I eventually moved it back into the garage, sure I was going to donate it soon.
Then, before the Donation Man came, I thought of another place where it would definitely work! My daughter's room!!! She was thrilled. I was thrilled. We filled its shelves with her books and she experienced the joy of having a drawer for prized possessions next to her bed.
But it blocked her trundle bed. If we ever needed to pull that out for a guest, the entire room had to be rearranged.
Around here, once a room is re-arranged, but not actually arranged, it stays in limbo for way too long.
Limbo = why even try.
When my daughter and I were decluttering her room recently, I took a deep breath and asked, "How would you feel about getting rid of the white bench?"
I didn't actually want to hear her answer.
She grimaced. She looked a little sheepish. And she said, "I really don't want it. I'd rather have more space to play."
More space to play.
No good Slob Blogging Mama can argue with that one, so we took it out. It hurt, but the open space is lovely.
Aaaahhhh. Open space.
And now Kit and Caroline have a real place for their own trundle bed.
P.S. The bench is gone. For real this time. Not donated after all, but sold within minutes on a local swap group on Facebook. I'll share more about that experience later!
P.P.S Do you see the clutter that had already collected on the bench in the time it sat waiting to be picked up?? THAT'S WHY WE CAN'T HAVE FLAT SURFACES!!!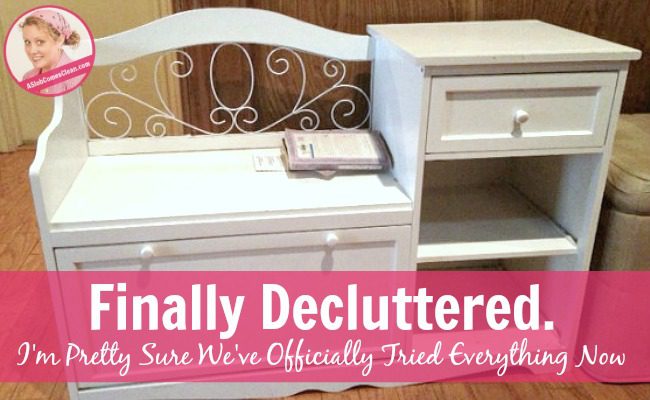 Podcast (aslobcomesclean-comfeeddailyaudioblog): Play in new window | Download
Subscribe: RSS