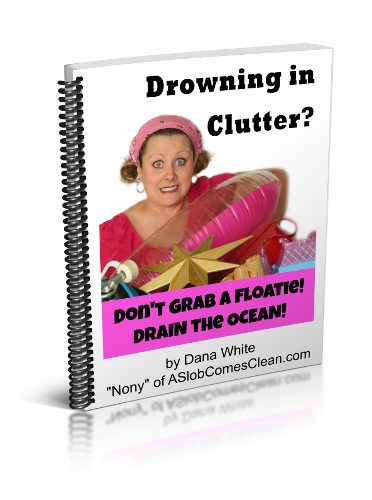 Whew! My HUGE project is done!
I am so excited to release my new e-book:
Drowning in Clutter? (Don't Grab a Floatie . . . Drain the Ocean!)
If you're a regular reader, you know all about my decluttering escapades around here. I've learned A LOT, decluttering huge amounts of my own stuff over the past more-than-three years of this deslobification process.
My view of stuff has changed. I've changed.
Though I've shared most of these concepts as I've learned them, I'm excited about this e-book.
The e-book contains over 50 pages of all new content that will give you solid, actionable strategies to eliminate the clutter in your own home.
An e-book allows me to write from a teacher's point of view.

If decluttering is on your list of goals for 2013, this e-book is for you!
Go check out Drowning in Clutter? It's on sale through January the end of January for only $4.00!
AND, if you haven't already purchased 28 Days to Hope for Your Home, I've created a set. You can purchase BOTH e-books together as a set (in PDF format only) for only $6.00 this month!
OK. I'm going to bed now. Writing e-books is exhausting.