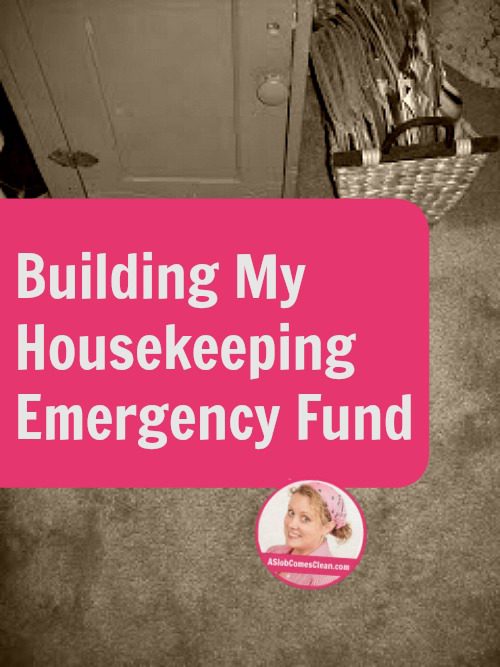 I've mentioned before that we are Dave Ramsey geeks.
Our last momentous achievement was building our emergency fund. It took a long time, the adjustment of our thinking, some sacrifices . . . but we reached our goal last May.
Now, although we're officially on the next phase where we have our investments going full force again, we've been surprised at the difficulty we've had in adjusting to this phase. The now-that-we-have-an-emergency-fund-how-do-we-use-it-wisely phase.
Don't worry, I'll get to the housekeeping analogy in a minute.
Basically, we're learning through experience what we knew in head-knowledge.
Emergencies happen. Building an emergency fund isn't the end. It's the beginning of a new way of life.
When emergencies happen, you have to use the fund, but then you pay it back. Which means that the money isn't there to make financial emergencies stress-free, it's there to keep you from adding the additional stress of owing money to someone else.
Basically, it's a discipline thing. You can have money in the bank, but when you spend it . . . it's gone. You have to work hard, earn more, and put it back.
Being sick, I took Tuesday off. I couldn't afford to take Monday off because I had guests coming who weren't willing to sleep on the floor because I didn't feel like cleaning off their bed.
As I snorted and sneezed and mouth-breathed all day Tuesday, I watched my clean-enough-for-my-mother-to-visit home fall into disarray. Laundry Day's clean clothes lay on a recently vacuumed rug in my bedroom.
The dishwasher is only half empty. I got tired of washing my hands between every dish because I couldn't stop sneezing. (I'm a germaphobe, remember.) Consequently, the kitchen is looking worse and worse as newly dirtied dishes have nowhere to hide.
It's amazing how quickly taking one day off can send my home into chaos.
But because I've been doing so much better, (cleaning the kitchen every single day, generally picking up and doing basic weekly cleaning tasks) . . . I have a housekeeping emergency fund.
Yes, I'm having to borrow from my own clean house. I'm piling up clean laundry on what I'm thankful is a clean rug.
Get it? There's actually something there to borrow.
For example, the above (totally embarrassing) picture, shows the pile of Kleenex next to my side of the bed.  Dramatically thrown there during prolonged moments of self-pity and exhaustion so excessive that I was completely unable to aim for (or get up and move) the trash can . . . 4 feet away.
But my emergency fund is the fact that the side of my bed no longer looks like this:
Throw a bunch of Kleenex on that pile, and they blend in.  Even when you pick them up in the name of your germaphobia, there's a good chance you'll miss a few.
When the house was in constant chaos, I had nothing to borrow from. Just like not having money in the bank means you pile up debt, my clutter piles just got bigger and bigger.
More overwhelming.
I'm going to feel better soon. Hopefully very soon. And when I do, I'll have more to do than I would if I hadn't been sick. If I hadn't jumped off the deslobification track for a few days.
But thanks to my emergency fund, I now know that there's a point to getting things back to where they were.
That it's possible to get things back to normal.
Or at lease normal-ish.
*I'm feeling rather profound right now, but it's very possible that it's the cold medicine talking.
If so, please forgive.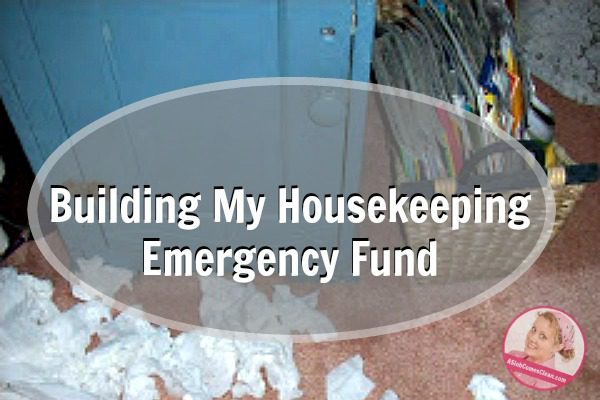 ————————–
Save
Save