I installed a sitemeter about two weeks ago to see if anyone was visiting my blog. It is the coolest thing ever. It tells me how people found my site. I can see how many visits I got from linking up on Tackle it Tuesday, Menu Plan Monday, or wherever.
It also tells me if someone found me by a google search. Someone, and I don't know if you're reading this, found me by typing "Can a germaphobe be a slob?" into Google. This cracked me up, but also made me realize that maybe I'm not the only one.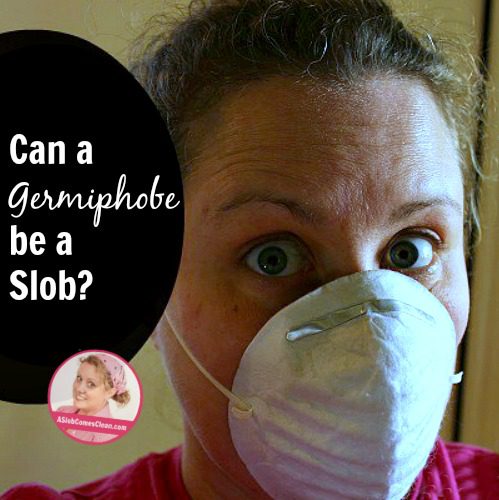 These seem like such total polar opposites that they can't go together. It has always irritated me that, even though I'm paranoid about germs, I didn't get the obsessive cleaning part that people think goes along with that. I often wish I had that problem.
So I thought I would share my own weirdness with you. This is in no way a scientific analysis, but here goes.
I wasn't always a germaphobe; it was an acquired neurosis. I do remember pitching a fit if someone in my family drank out of my glass, but I also remember sharing lollipops with my best friend, so I think that was just being a brat, rather than any deep psychological issue. But as I've said before, I was a slob from birth.
I went to a small high school, and when I got my first lead in a musical, I realized that since we didn't have understudies, I couldn't get sick. So I started to be paranoid about washing my hands. I would wipe down silverware in restaurants, not touch bathroom faucets or door handles, etc. Let me tell you, if you let yourself start thinking about all the ways germs are spread and how to avoid them, you can go pretty far.
So this just continued. I have always worked hard to not let it affect our lives too much. My husband graciously salts and peppers my food in restaurants, but I talk to myself a lot to keep from actually being crazy.
How does it go along with slobbishness? I'm definitely not going to blame my slobbishness on my germaphobia, but the two do coexist. Cleaning bathrooms grosses me out. When I do it, I have to then be able to take a shower. I also hate to disturb dust. I know that's crazy, but if I leave it alone, it doesn't fly up and get breathed in.
Last night, I realized I should write this post when I had just washed my hands, and then looked over and saw that my lovely son had put his dirty undies and dirty socks on the bathroom counter. NOT on the floor, but on the counter where I put my makeup, hairbrush, etc. My first reaction was that I didn't want to touch them because I would have to wash my hands again. They ARE undies after all. Then I remembered my non-negotiable task of keeping the bathroom counters clutter-free. So I put them in the dirty clothes. And of course, I re-washed my hands.
But that's how my brain works. If I just don't touch them, I haven't gotten the germs on me. I think, "I'll wait until I have the time to remove them, disinfect the counter, and then take a hot shower."
But I moved them, and this morning I had forgotten about them. I put on my makeup without ever remembering they had been there. I'm a little grossed out now to realize that I did this, but I'll live.
My germaphobia is not as severe as someone you would see on Oprah. It's something we laugh about and something my friends make fun of. I work very hard to keep it in check and not let it affect our lives. But this blog is helping me realize how it affects my housekeeping. Really, in this area, it is just another great excuse for not picking up, cleaning, whatever, right then, but putting it off for later, which is usually much later.