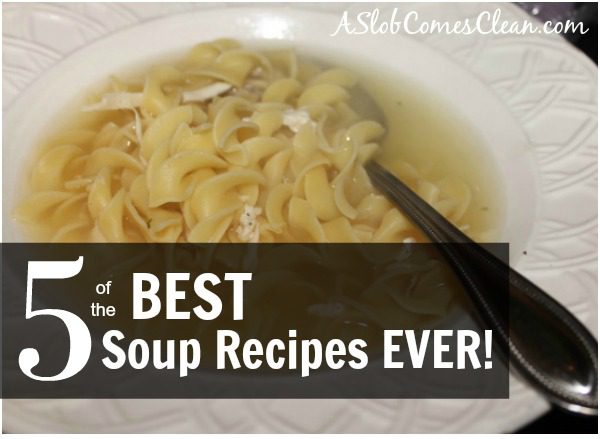 The weather in Texas is legitimately cold today. In the 30s, y'all. I think it even went below freezing last night.
Yesterday, I found myself mentally calculating how many days of soup weather we'd have before it gets back to normal-for-around-here temps.
Because cold weather = soup weather.
Not that we can't or don't eat soup when it isn't freezingish cold, but I love the loveliness of a warm-to-the-last-spoonful bowl.
I thought I'd share our favorites with you. Most are ones I've posted here over the years, but in case you're also planning out your Soup Schedule, I thought you might like to have them all in one place.
I'm also sharing our beloved potato soup recipe in full, since the site I used to link to no longer exists. Not that I've actually followed the recipe in a very long time.
Affiliate links included whenever possible!
Recipe for the Very Best Potato Soup EVER
(I'm not a good recipe sharer. I give the basics, but don't worry so much about exact amounts or exact times or exact ingredients. Sorry. And I'll add a photo after I make this soon. We're having the Taco Soup tonight . . . )
12 cups chicken stock or broth. I like to use Knorr's because I love the flavor. If you use basic chicken stock, add poultry seasoning to taste.

Bring the chicken broth to a boil.

Potatoes. 3 big (Costco sized) or 6 medium or 2 big and a few small or 4 big and add more chicken stock if needed to cover them. I generally just start peeling and chopping potatoes and peel and chop a few more if I need more once they're in the soup pot.

Peel and then cube or slice the potatoes evenly. You're going to blend them anyway, so it's just a matter of making smaller pieces so they'll cook faster.

Carefully place the potatoes into the broth, and simmer until the potatoes can be pierced easily with a fork.

Using a  handheld immersion blender (one of my favorite kitchen tools), blend the soup carefully until it reaches the desired consistency.

(Carefully = being sure to not slop boiling soup onto yourself.)

Add 8 ounces of cream cheese. I like to cut it into about four pieces and then stir around to let it melt. Then, because I'm impatient and because we like the potatoes not-so-chunky and very well blended anyway, I use the immersion blender some more to blend in the cream cheese.
Y'all, this soup is SO good. So good. On a normal day, I serve it with grated cheese to put on top, and on a fancy day I cook bacon to crumble and put on top as well.
Mmmmmmm.
Our other favorites (with no fancy photos) are:
And our favorite beef and vegetable soup is from a recipe not on my site: Hearty Beef and Vegetable Soup BUT it's important for you to see the modifications I make to it here.
Because I always have pre-cooked ground beef or shredded chicken in my freezer, I can dump the ingredients into the Crock Pot in minutes to let most of these soups warm all day. The only exception is the chicken and noodles, but that one is ready on the stove in fifteen minutes. Yay for comfort food with minimal work!
See how I pre-cook ground beef here and chicken here.
--Nony