Our summer break is over. I'm sad. As always, though, I feel some excitement about getting back into a routine. Yesterday was a little stressful as the boys are starting in new buildings as they go into Jr. High and High School.
No more little kids for me.
I thought I'd start back to blogging with the traditional What I Did Over the Summer essay. Just don't grade me on it.
We stayed pretty close to home for the summer, and while we spent quite a bit of time at the local pool, we've definitely arrived at the time in our lives when the pool isn't the end-all-be-all of our summer world. With the kids involved in all sorts of different things (one was in a play, one was in summer workout or full-on practice for both football and band and one was on a swim team), they weren't always available to go. And when they were, we had to check to see if their friends would be there. I'm so thankful texting is a thing as we hit this phase of life.
But enough about that. You care about the house, right? And how the loosi-goosiness of summer affected it.
It did.
Here was my view as I sat here typing yesterday: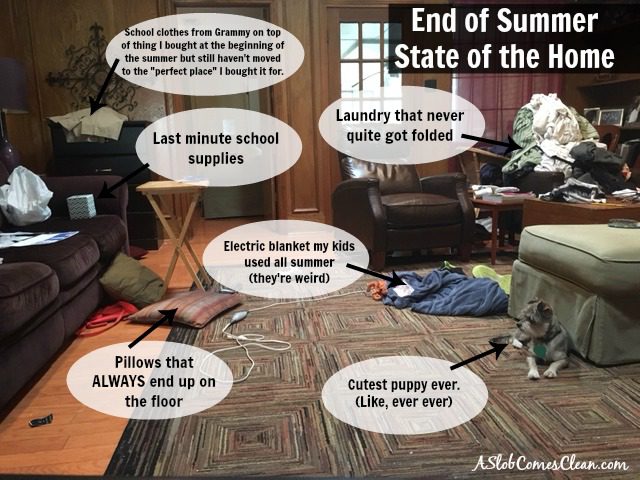 Things about this photo:
I didn't move a thing before I took it.
I wish I had stopped the crazy backpack loading and clothes checking Sunday night long enough to do a five minute pickup.
I wish my view was of the kitchen instead (since I cleaned it up yesterday morning) or a before and after of the laundry piles, since yesterday was Monday and that meant it was Laundry Day.
Or even of my master bedroom, which had a nice cleaning to get it ready for the delivery of a new mattress.
But alas, this is my reality. Y'all, it could be so much worse.
This is nothing compared to any day of the year pre-blog.
If you're completely horrified by this photo, you are probably in the wrong place.
So what worked well over the summer?
Five minute pickups. 5 MINUTE PICKUPS, y'all. They're magical.
Did I do them nightly, at a certain time, like clockwork? Ummmm, no. Not even. But as soon as I started to get that eye-rolling, panicky, this-place-is-a-mess feeling, I announced it was time for one. Or when I tripped over something.
I even, get this, would text my kids from the grocery store (or the doctor's office, or wherever) to do a five minute pick up and clean the bathrooms before I got home.
For real.
Mamas Whose Kids Are at the Age When a Five Minute Pickup is More Hassle than Help, take heart! The day will come when your kids will actually sleep past 6:45 a.m. You'll be able to grocery shop alone, even in the summer. And if you work hard to make five-minute pickups normal now, one day they'll be able to make a positive impact on the house without you micro-managing.
What didn't work well for us?
It wasn't all feather dusters and roses. My kids have also hit the age when "getting to" do laundry isn't thrilling and when cleaning a mirror isn't their idea of a fun Tuesday morning. They cleaned bathrooms when it occurred to me to tell them to clean bathrooms. No routine or schedule whatsoever on that.
But we managed. It was worse than the rest of the year for sure, and the dining room (which just so happens to be what anyone who comes to the front door sees first) was a disaster pretty much the entire summer.
But . . . we survived.
Mondays were Laundry Days, and even though I re-washed at least two loads each week and rarely finished until Thursday, the fact that Laundry Day existed meant we almost always had clean clothes to wear.
Almost.
And even though I never did quite get on the rhythm of running the dishwasher at night and emptying it first thing in the morning, I did run it at some point every day. And that fact alone meant we almost always had clean dishes and more often than not didn't have dishes piled in the sink and on the counters.
Perfect? No. But as I looked at the old posts scheduled to go out on Facebook a few weeks ago, I noticed this one that's classified as "summer" focused. For each of the past few summers, I purchased a jumbo pack of paper plates at Costco and used them for survival. I was proud of the fact that we made it with only the one package, since pre-blog, paper plates ( lots of them) were a necessity in our house.
This summer . . . I didn't use a single paper plate. We might have eaten a sandwich off of a paper towel once (or twice), but we survived. Three meals a day for four-to-five people, and clean dishes (almost) every time? Go me!
Fine. I did occasionally drink icewater out of a cereal bowl, but my cereal bowls have handles. Technically, they're humongous mugs. So if I wrapped my hands around it and closed my eyes and acted like I was smelling it, an unsuspecting passerby would totally think I was drinking a big cup of coffee.
Not that we had many unsuspecting passersby in our kitchen, but whatever.
My point is that we survived. And instead of digging out of a mess, I just need to get back into all of my routines to make it pretty.
Yay me.
In addition to surviving, here are some other things I got done this summer (posts coming up soon about these projects!):
I decluttered the master bedroom (always a dramatic project).
I helped my mother-in-law declutter her linen closet.
I decluttered the kids' rooms.
I decluttered half of the gameroom.
I painted our half-bath.
I had meetings with publicists, marketing directors and PR people about my upcoming book launch in November. I met deadlines for edits and even opened a box full of Advance Reader Copies of my actual hold-it-in-your-hands book, live on Facebook.
I also put out three videos! Two were ones I did before summer, but hadn't posted. I'll share them here soon, or you can go to my YouTube channel and watch them now!
If you're feeling left out, you're probably not signed up for my free email newsletter. That was pretty much my only reliable communication over the summer. Sign up here and you'll get my best decluttering solutions delivered to your inbox!
--Nony