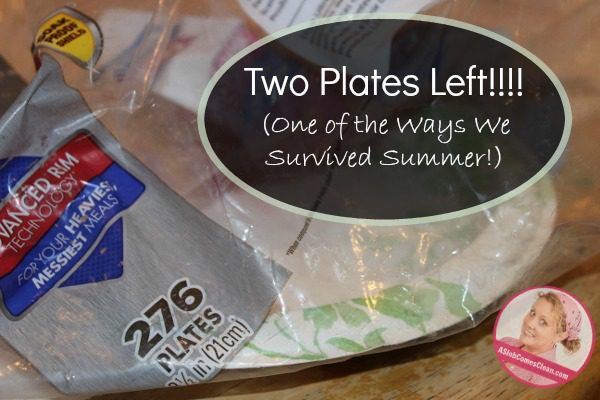 Pre-blog, we depended on paper plates.
Lots of 'em.
When I forgot to get them at the store, Hubby would start to panic.
We used them for survival. Their purpose wasn't to keep us from doing dishes, it was to allow us to eat when all non-paper plates were dirty.
Which was a regular occurrence.
Once I started doing the dishes every night and putting them away every morning, we didn't use paper plates anymore. We didn't need them. Clean plates were always available. Even after I decluttered a lot of them.
For almost five years, I didn't buy paper plates other than for specific occasions like birthday parties.
In May, though, I bought some. When I noticed that there was a Costco coupon for a big ol' pack, I couldn't resist.
I rationalized getting paper plates because I knew ONE thing that's hard about the gloriously routine-free summer is we create more dirty dishes. When five people eat three meals a day at home and insist on using PLATES at each meal, the dishwasher gets full faster. This often means I need to run it twice.
Need to? Yes.
Remember to? Not usually.
So I bought the 276 pack of paper plates and declared they would only be used for one meal a day.
That pack would provide 55 plates-that-need-washing free meals. In 100 days.
Our summer's over . . . and we have TWO LEFT!!!!
It worked. Really. We (obviously) didn't use them every day. My kids rarely thought about them because they're so used to using real plates. I'd keep an eye on the dishwasher and pull the paper plates out when it looked like it would make the difference between being able to fit everything in the dishwasher that night.
Part of me is sad that we broke our streak of going five years without needing to use paper plates.
But honestly, the fact that we didn't NEED to use them (like in an every-other-dish-in-the-entire-house-is-dirty-so-it's-either-use-a-paper-plate-or-eat-off-the-table kind of way) makes it okay in my head.
We used them to keep the kitchen under control. I'm all about doing whatever works.
P.S. We haven't used a single paper plate since school started.
--Nony