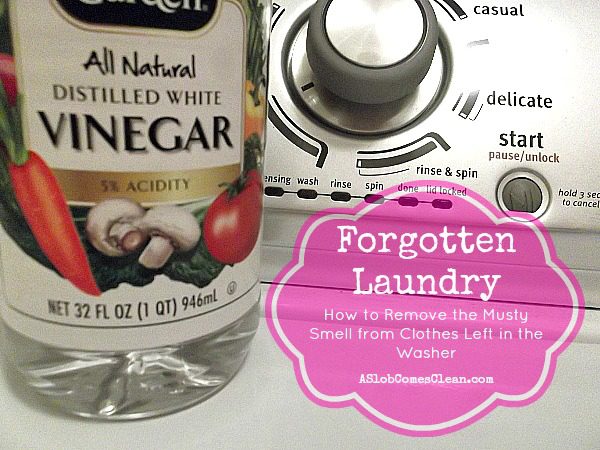 Ever forget to move a washed load of clothes to the dryer?
I have.  At least once . . . .
I've had to learn how remove the musty smell that happens when clothes have stayed wet too long inside the washing machine.
Today's Thursday.  Since there was extra laundry this week, I kept Monday's  Laundry Day going on Tuesday.  But at some point, I forgot to change over a load of wet clothes to the dryer.
Then . . . I left yesterday morning at 8:30 a.m. for Bible Study.
Then . . . I went straight from there to spend the day with my best friend (and meet her newly adopted boys).
Then . . . I spoke at an evening MOPS meeting.
Then . . . we took advantage of the Wednesday enchilada special at our favorite Tex-Mex restaurant.
Then . . . I drove an hour and arrived back home at 10:30 p.m.
Then . . . I helped count money for a school fundraiser first thing this morning.
And then . . . I took a sick kid to the doctor.  (Thankfully, he doesn't have the flu.)
Anyway, those "clean" clothes don't smell so clean anymore.  So I drew on the experience I gained in the years before I started a Laundry Day.
Y'know, the years when 6 out of every 10 loads of laundry had to be re-washed.
At least once. 
The trick?  Add vinegar when you run the load again.  I don't measure.  I just do a once-around-the-washer pour. I do use more laundry detergent.
I add another once-around if the musty smell is extra-strong. I've also learned that with my newer, high-efficiency machine, I need to run push the "extra-rinse" button on that vinegar re-wash.
If laundry is the never ending horror story in your home, learn about my journey to figuring out a laundry routine that worked.
My newest book, Decluttering at the Speed of Life is now available wherever books are sold!
Does even the thought of decluttering overwhelm you? Sign up for my newsletter and get my reality-tested decluttering solutions delivered to your inbox for free.
Save
--Nony