Fair warning: I shall include an affiliate link or three within this post. That's just how I roll.
First, if you don't have a dishwasher, I'm sorry. But read this post about the realities of dishwashing that still apply when you don't have a dishwasher.
If you do have a dishwasher, but find yourself frustrated that it doesn't perform the magic tricks you think it should, keep reading. I've learned a lot over these years of being a "top cleaning blogger" (hee hee hahahaha).
A few days ago, as I leaned over to stick this in my dishwasher: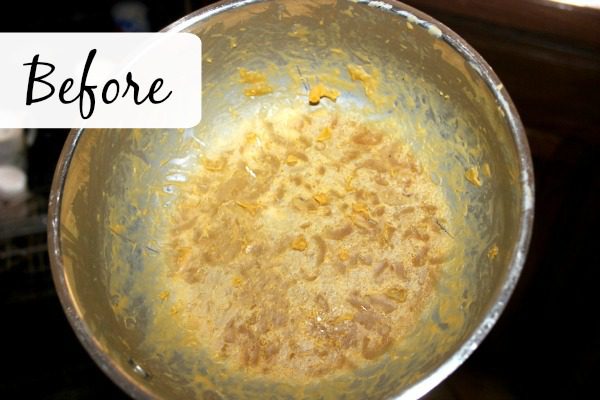 I decided to take a photo.
There was a time when I would have felt the need to let that sucker soak. It's the result of me warming up leftover mac-n-cheese on the stove on the day our microwave died.
Right. That's easy-melt cheese burned onto the stainless steel surface of a not-a-non-stick pan.
And it had been a crazy week and I was off my dishwashing rhythm, so the stuck-on cheese-like product had been stuck-on-good for more than a day.
It was a tough job for any dishwasher, but I was confident.
When the dishwasher was finished, this is what I had: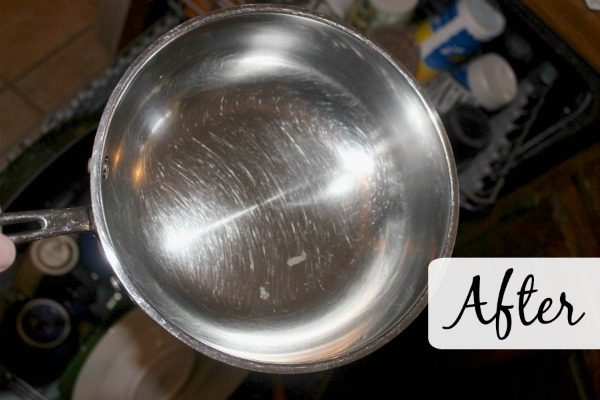 Seriously, y'all.
Does that not make your hates-to-pre-wash heart sing? It does mine.
There are two little non-sparkly spots, but when I went in for the fingernail flick, I realized they weren't even left-on food, but just oxidized/smudged/something-other-than-grossness spots.
So I thought I should share what I've learned. Because there was a time when I would never have expected that mess to come off. (Not that I wouldn't have stuck it in the dishwasher anyway, putting off the inevitable.) And even though I do love my dishwasher, many of these tips helped (or would have helped) significantly when I was using my old, non-fancy-schmancy one.
1. Many typical it-doesn't-get-things-totally-clean frustrations are eliminated when running the dishwasher becomes a daily routine. Really.
When I started my deslobification process, I had an elderly dishwasher. Creating a routine for running it consistently completely changed everything for me. My kitchen stayed under control which helped me keep the house-as-a-whole under control.
And . . . running it daily meant my dishes got cleaner. Running it daily meant food was never rarely more than 24-hours-hardened.
2. Dishwashing detergent matters. Big time. Spend a little more to get amazingly better results.
To be clear, this is NOT a sponsored post, and if you know me at all you know it's rare that I suggest spending more. I'm cheap as cheap can be. BUT, I am passionate about buying the good stuff for my dishwasher.
Here's the thing. Years ago, I noticed the detergent I'd been using for a very long time no longer worked very well. My dishes were cloudy and weren't getting clean. And then I did a post for Oxy-Clean Dishwashing Booster and the inside info we received was that environment-protecting laws had been changed in 2010, outlawing the use of phosphates in detergents. That explained why my old faithful stopped working around that time.
Then, when I was a Maytag Mom and visited the labs where Maytag tests their dishwashers, the Dishwasher Scientists (that's totally a thing) explained how a dishwasher's design is important, but sometimes things come down to chemistry.
Basically, dishwashing detergent matters. A lot. They wouldn't recommend a certain one, but they did say to buy the pods/tablets. The expensive ones. Consumers like (and buy) these somewhat-new, convenient products, so dishwashing detergent companies put the most research into them. They had to do research anyway because of the required formula changes I mentioned above, so it made sense to put their energy into the products that were selling the best.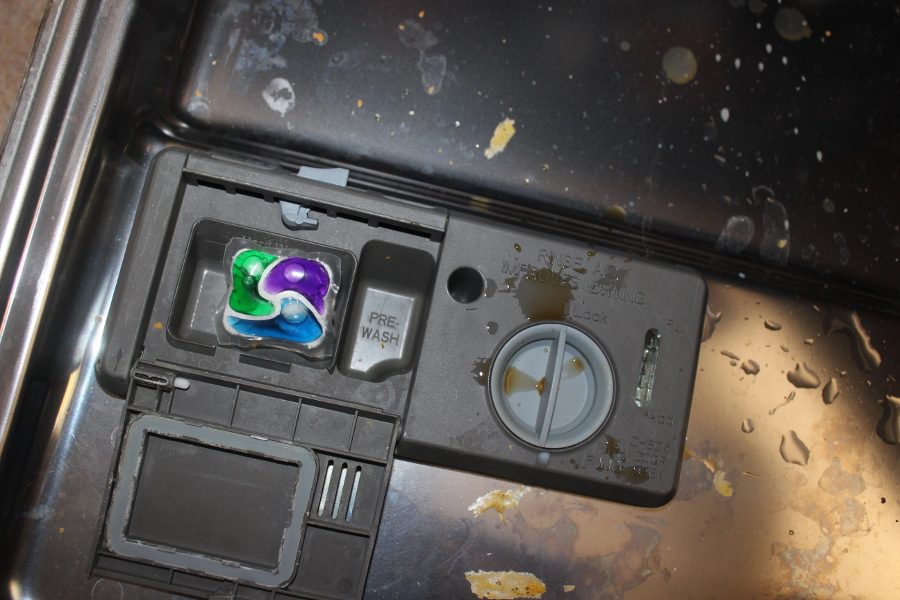 I came home, started buying the good stuff, and the amazing results made the slightly higher cost a non-issue for me. Pay a few more cents per load and KNOW my dishes are going to come out sparkly? Yes, please!
3. Be sure nothing is blocking the moving parts.
I wrote this review of Cascade ActionPacs years ago, using my old dishwasher. I was so disappointed that my detergent door didn't open when I ran the load for the review.
That used to happen all the time, and I blamed my dishwasher. And so many times when it happened, I'd run the same load again and it wouldn't open again! And I'd run it again, and it wouldn't open . . . again!
Dumb dishwasher.
Ummmmm, when I toured the Land of Dishwashers with Maytag, they explained that the reason the door doesn't open sometimes . . . is that something is blocking the door.
It wasn't a fluke, and it wasn't my old dishwasher's fault. It was my fault. And running the same load again and again and having it not open again and again makes sense since I never thought to move whatever was blocking the door since it never occurred to me that something could block the door!
I also check all the other moving, spraying parts to be sure nothing is blocking them. If they're blocked, they aren't able to do their job. Mine has a spinning thing attached to the underside of the top rack. I manually spin it before starting every load to be sure nothing will keep it from spinning smoothly.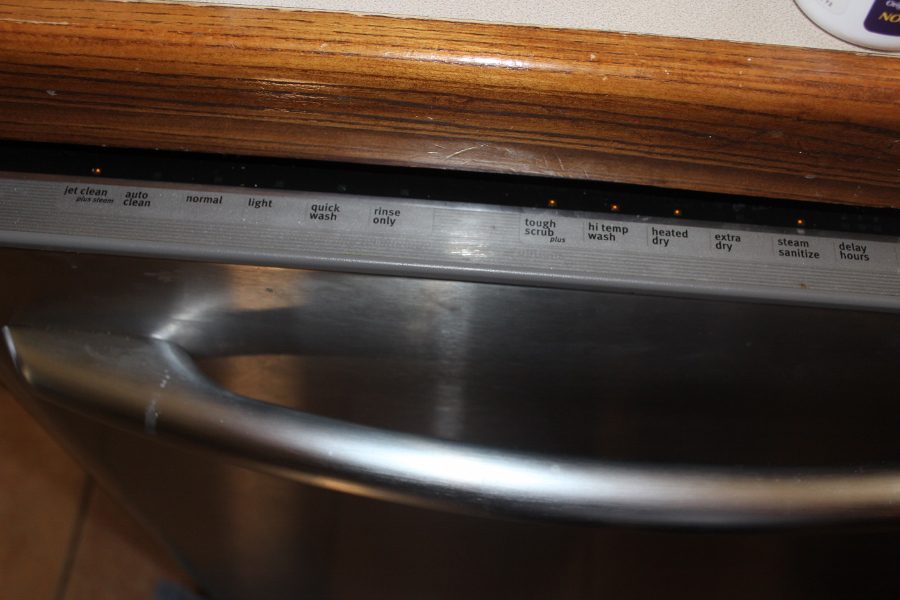 4. Push lots of pretty buttons.
I've never claimed to be "normal," but when it comes to appliances, I default to pushing the Normal button. I never paid any attention to the ten other buttons available to me. But when the Dishwasher Engineers explained that those buttons have actual purposes and that you're really supposed to use them, I started pushing.
I push as many as I can every single time I run my dishwasher. Tough scrub? Yeah, baby. Jet clean? Why not??!? Hi-temp wash? Let's do this!
Some of the buttons cancel each other out, but I generally push as many as I can. The experts told me to. Duh.
4. Your dishwasher may need to be cleaned.
I know it sounds ridiculous, since dishwashers clean things every day, but they do need to be cleaned. I don't do the monthly clean like some recommend, but I do use an Affresh tablet on a random basis when I notice my dishwasher isn't doing as well as I think it should.
Modern dishwashers are amazing things. Really. But all of these tips I have learned help even in non-modern dishwashers.
Do you do all these things to get the most out of your dishwasher?
Other dishwasher related posts:
Why I Have to Run My Dishwasher Every Single Night
Does a Dishwasher Need to Be Cleaned?
Dishwashing Tips and More Podcast
Five Truths about a Clean Kitchen that are Still True if You Don't Have a Dishwasher
First of all, dishwashers aren't actually magic. Without having an actual routine,
--Nony