I'm a Swiffer Ambassador this year, and my latest assignment motivated me to tackle two spots I prefer to ignore. I'm calling that a win.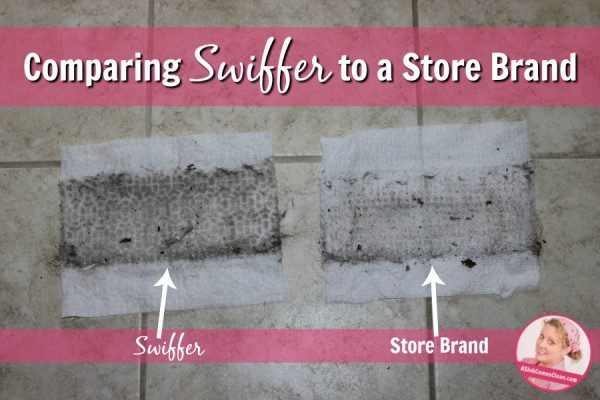 My task: compare the Swiffer Sweeper dry cloth refills and Swiffer WetJet pads with their store brand versions.
I was excited to do this, because one of the Cleaning Nerdery facts that stood out to me most when I visited the P&G headquarters for training last August was that so many of the features of Swiffer's product features are patented. This means store brand versions CAN'T, legally, be exactly the same. As a frugal type, I always wonder if there's really a difference so I found this fact fascinating.
The first thing I did when I opened my package of products to compare was take note of the visible differences.
With seven of each brand of dry cloths stacked, the Swiffer stack was most definitely taller and fluffier. Visually, I can see that the Swiffer cloths have more texture and the ridges are deeper. I could feel that the Swiffer cloths were treated with something, as I felt it on my fingers after rubbing them across. I didn't feel anything like that with the store version, which makes sense because I remember that being one of the patented features we learned about in August.
But how do they work? Because that's all that actually matters, right?
I decided to put them to a real test and . . . move my sofa.
Y'all, I am fully aware of how raunchy it gets under there, so I practice Full Awareness Denial in cases like this. I usually wait until something really, really important has been lost (as opposed to something marginally important) to drag it away from the wall. But that long-term denial provides the perfect lab for testing these products.
This is what I found: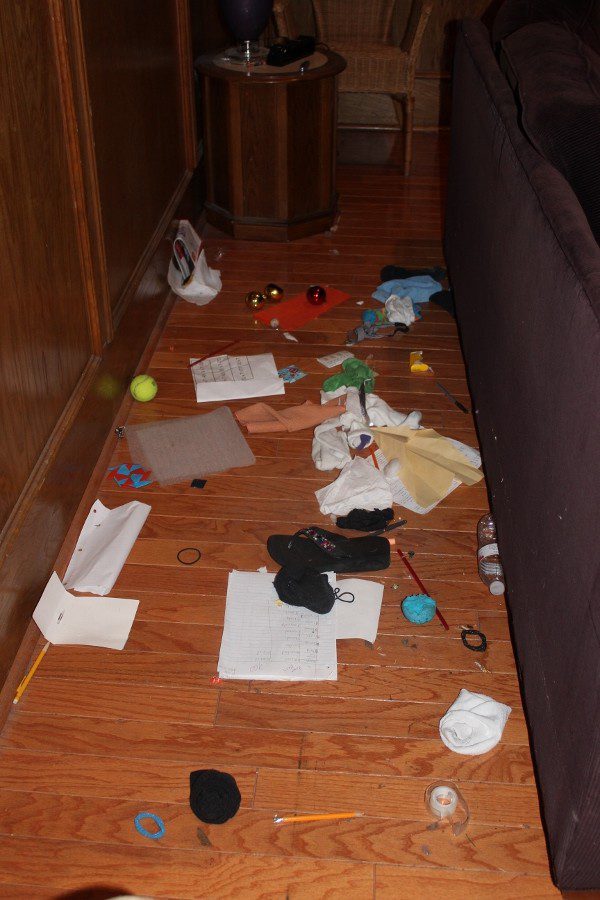 After I picked up all the crjunk, I was left with a sufficiently dusty/dirty/scary floor:
I divided the floor in half, and used each product. I followed the instructions to sweep in a figure eight pattern, always pushing forward with the same side of the product. (This was something I learned in my training.) Here are the results:
Then, I took those same cloths to my master bathroom. It's possible that I haven't swept or mopped in there in a while. Possible.
This is a good time to share another Swiffer tip I learned: Don't stop using a cloth or pad when it looks dirty. Stop using it when it stops doing its job.
I like that tip. I like using things as long as I possibly can, and confirmation that that's okay made me happy.
I chose to test the already-used cloths and the WetJet pads on equal parts of the center of the bathroom. The two sides of the bathroom serve different purposes (one side is the shower, and the other is the toilet), so I didn't think it was fair to divide the entire bathroom in half.
Here are the results after sweeping with the same dry cloths: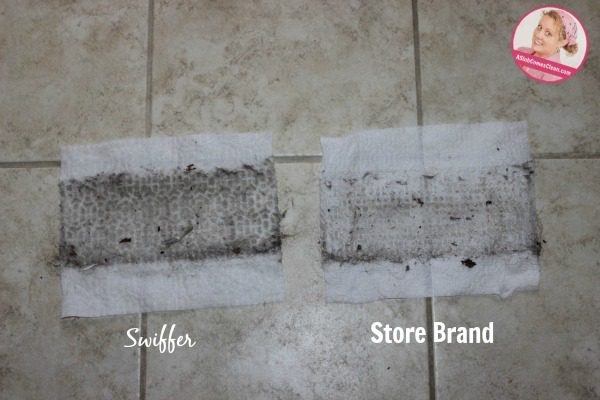 Instead of the sheer grossness of all that being on my floors, let's focus on the fact that it has now been cleaned, okay?
I then used the WetJet pad and compared it with the store brand pad:
To be clear, I only used Swiffer brand cleaning solution in the WetJet.
Swiffer won, y'all.
But here are some of the details I noticed. The Swiffer cloths did a much better job getting the edges of the floors (up against the walls/baseboards) clean. I think this is because they are "fuzzier" so they reach those edges better than the other cloth which I had to shove hard up against the wall. (Does that make sense? It does in my head, but I'm not so sure . . . )
The texture also seemed to have a big impact on how much dirt (and other grossness) it grabbed on the cloth/pad as a whole. Because these areas were as equal in dirtiness as I could get them, I assume that was because it was the Swiffer picked up more dirt than the other. Behind the couch, the Swiffer side of the floor felt cleaner on my feet.
Oh, and after I finished my "experiment" I used the Swiffer cloth and pad to sweep and mop the rest of the bathroom. Yay for motivation!
And more good news: I get to host another giveaway!
Sorry, y'all! This giveaway is over! But subscribe to my newsletter so you'll never miss future ones!
To be entered to win, all you have to do is leave a comment on this post!
The prize:

Swiffer Sweeper Small Box Starter Kit with wet refills, dry refills, a Swiffer Duster and Duster refills

 

Approximate value: $50
One person will win, he/she must be a U.S. resident (sorry!), and Swiffer will fulfill the prize. If you enter, be sure to use an email you actually check since a winner who doesn't respond to the email notifying them they won within 48 hours forfeits the prize. I'll use random.org to choose a winning comment! See all my giveaway policies here. This giveaway will end on March 10th, 2015 at 9 p.m. Central.
This was a sponsored post, but all experiences, opinions, hairy-floored bathrooms, and purposely-ignored under-the-couch-spaces are mine, all mine.
Save
Save
--Nony