I'm a fan of living in reality.
It's reality that most New Year's Resolutions fizzle by January 3rd.
I rarely even bother making them anymore.
But with the start of a new year, desire for improvement happens. I'm suggesting a resolution for those who can't resist making one:
Live in Your Home
Anybody can do that, right? Barring exceptional circumstances, it's kind of a no-brainer.
Make it a brainer. A conscious decision. A mindset change.
Mindset changes are powerful things.
Live
For my family, "living" means eating together around the kitchen table. It means plopping down on the couch to watch a movie. It means getting dressed, brushing hair and doing homework.
When I focus on getting my whole house organized ONCE AND FOR ALL, I get overwhelmed. When I focus on living the life we're living anyway, I see value in clearing the table so we can sit down and enjoy end-of-the-day conversation.
I see the point of a piddly task that seemed pointless when my focus was on organizing my house.
In
Call it a stretch, but I'm going to expound upon this little preposition.
If you've been around my blog for a while, you know The Container Concept has rocked my Slob World. It all started when I finally understood what a container was. I used to think it was a place to stick stuff. Turns out, containers are meant to contain things. They are natural limits that determine how much "stuff" I can have.
I once thought if I filled up a basket with markers, but still had 468 markers left over, I needed another basket. (Or four.) I didn't. The basket was a container. It contained (limited) the number of markers I could keep. If I shuffled through the 468 that didn't fit and found a gold, sparkly one or one that smelled like grapes, I could only keep the special marker if I took one (that I didn't like as much) out of the basket. The ones that didn't make the cut went in the Donate Box. (That's the one-in-one-out rule.)
As The Container Concept started to make sense to me, I began to see my home for what it was: a container.
Actually, it was container full of containers.
Every bookshelf, every utensil drawer, every closet was a container. Once I filled up a bookshelf, I knew how many books I could keep. I used to think I needed to go buy another bookshelf.
I learned I could more easily identify the books I loved when I could only keep what could fit on the shelf. Learning which ones I loved showed me which ones I didn't love as much. This let me donate them without any as much "But . . . but . . . I LOVE books!" angst.
Rooms turned into containers. A room can only hold so much furniture. Buying another bookshelf isn't an option if it simply won't fit.
I also started to see that my rooms not only needed to contain the STUFF, but the people who lived in them. A room is only as big as it is. I need to fit furniture into the room, AND I need to fit people in there. The people need to sit and stand and relax and move from one side to the other without stubbing a toe.
Eventually, my brain accepted that my entire house is a container. It's a container that fits a garage, a living room, bedrooms, bathrooms and more. All those things (while arguably not absolutely necessary) are the reasons we bought this house. We spent a LOT of money so we'd have a place to park our cars, a place to sit down and enjoy one another, a place to sleep, a place to . . . well . . . y'know, and more. If the Bedroom Container overflows and I have piles of clothes in the living room, it's harder to live in the living room. If I stick random stuff in the garage until it's so full we can't park in there, the garage doesn't get to serve its purpose as a container for our car.
Viewing my home and all of its rooms and shelves and baskets as natural limits removes a lot of the angst about figuring what I should keep and what I shouldn't. Limits aren't personal, they're just there.
Your
I'm going to switch this to "my."
I've grasped that I need to focus on things that make living easier. I've grasped that facts are facts and it's not possible to shove more stuff into my house than will fit and still expect to be able to live in it easily.
But I need to live in MY home.
Pre-blog, I lived for my next phase of life. Everything was going to be easier once I was settled. Once I finally arrived at the place where I was going to be forever. Once that day came, things were going to be magically organized.
But they weren't.
Our current house is our Final Destination Home. We knew that when we bought it. But when it was messy and disorganized like every other space I'd ever lived in, I started dreaming of another house. A better one. A bigger one that would actually have storage closets.
But if I'm going to LIVE, it needs to be done in MY home. Now. The one that only fits a certain number of bookshelves or side tables or whatever.
And while I may believe with all my heart that the metal pots-and-pans hanger my friend installed over her kitchen island is the BEST organizing solution ever created for pots and pans, my belief doesn't change the fact that my kitchen doesn't have an island. Or the space to install an island. Or a ceiling  high enough to hang a sauce pan without risking serious head injuries to the full-grown members of our household. And we're not even tall.
I was wrong all those times I put off living because I was waiting for the next (mythical) phase when everything would be easy and perfect.
I need to live in MY house. Now.
Home
A home is the people who live in it. People matter, not stuff. And when people matter, stuff doesn't seem to have the same "right" to be there if it's keeping the people from being able to live.
If you're desperate to declutter, get The 5 Day Clutter Shakedown video course. You'll find all the details here.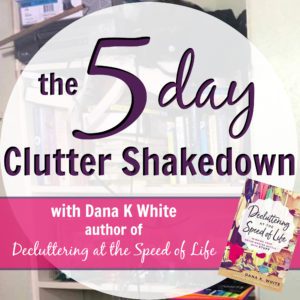 --Nony