My home is forever a work in progress.
Kinda like me.
While this can be frustrating to the girl who loves project deadlines, accepting that the state of progress is an okay place to be . . .  helps me.
Here's the thing.  I get big ideas.  I picture wonderful finished projects in my head.
Things that are done and finished and can be admired and remembered.  This mentality can paralyze me in certain situations where I simply am not able to do it right.
Right now.
Remember the white bench?  The one I removed from my gameroom?  That was extreme decluttering because it meant accepting that the cute surely-it-should-be-useful-there  piece . . . wasn't useful.
In fact, it was a problem-causer.
Taking it out completely has been a huge help in that room.  I really don't even miss it there.
But . . . . here's where I admit something.  I never actually got rid of it.
Nope.  It's been sitting in my garage for, ummm . . . a while. 
In the comments on that post where so many of you were trying desperately to NOT be an enabler for me, someone mentioned putting it in an entryway.  Which . . . was a FABulous idea.
When we looked at this house, the lady who lived here had a bench in the entryway.  I loved it.  The entryway is a perfect place to put this cute-as-can-be bench.
Mmm-hmmm.  That's what I'll do.
Y'know, someday.
Someday, because I also have an overall plan for re-doing the entryway.  It's in my head, just not in my budget.  (Neither my money-budget NOR my time-budget.)
So, motivated by the fact that my Room by Room girls and I had randomly assigned "Entryways and Mudrooms" to this month . . . I figured now was as good a time as any to do something.  Not everything, but something.
So, I just rearranged.  I moved the current items in the entryway to their new homes.  The sofa table went to the master bedroom, where I've always wanted it anyway.  The chest I got in Thailand went to a perfectly-fine spot in the living room.
It's not the overall look I want.  It seems small in this space, and I'm ready for you to take that gold-framed picture back, Mom.
It's in a state of progress.  But we could live in this state for a while and be perfectly fine.
Meanwhile, there are three more feet on the side of my garage that I don't have to do any bodily contortions to get through.
What areas of your home are in a state of "livable progress"?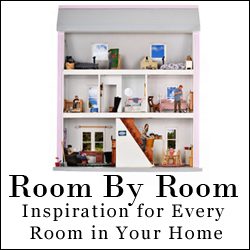 Be sure to check entryway/mudroom inspiration from my friends:
Jami from An Oregon Cottage is sharing the evolution of her entry.  And knowing her, it will be beautiful and inspiring!
Taylor from Stain-Removal 101 is sharing 5 Mudroom Ideas To Keep It Both Clean And Inviting .
Christine from I Dream of Clean is talking about how front doors are like first impressions!
Save