I look forward to the end of Daylight Savings Time each fall because dark happens earlier.
Not that I don't love daylight.
But when darkness falls before 6 p.m. on Sunday nights, I don't have to worry about the state of my playroom when our church's home group meets here.
Our playroom is really an enclosed back patio. A sunroom. A sunny sunroom that gets crazy-hot  in the Texas summers and therefore doesn't get played in from May to August. It's not ideal, but it's what we have.
I successfully ignore it.
But it also has a glass door from the living room. This means when people come to our house, they see it. TOTALLY see it.
Blergh.
And yet . . . I still ignore it and wait impatiently for Daylight Savings Time to end so the room will disappear into darkness.
Cleaning it just feels like SUCH a big deal.
I'd been meaning to set aside a weekend to work out there. A weekend with perfect weather and lots of free time.
That would have been nice, but I decided to go ahead and work out there this past Saturday for the hour or so I had to spare. Basically, I threw away a single grocery bag full of trash and then swept.
And it went from the before picture up there, to: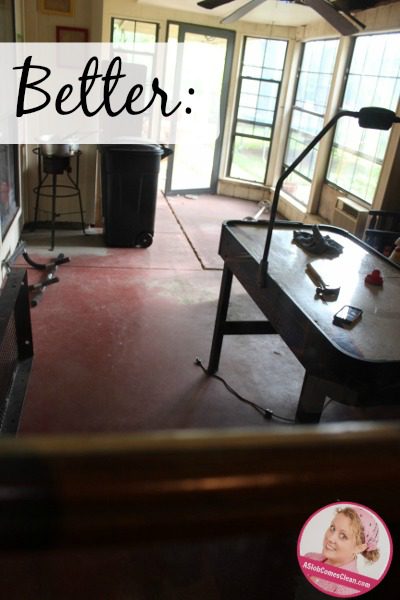 Aaaaahhh, much less embarrassing.
I even tackled the spot I'd been avoiding forever, assuming it was going to require heavy duty tools and cleaners.
There used to be a rug in that spot. A rug that got wet when the roof leaked and then basically rotted.
Ick. So gross. I threw the rug away over the summer, but the "residue" remained.
On Saturday, I looked at the spot again with eyes that had seen how Dawn dish soap is used to clean a whole lot of stuff (that I'd never have thought to clean with Dawn) at the Marine Mammal Center. I decided I'd give it a try.
Fifteen minutes (or less) later, the nasty, overwhelming spot was gone. Dishsoap in hot water and a stiff-bristled brush did the trick immediately.
Hmmmph.
What big-and-daunting projects have surprised you lately?
This isn't a sponsored post, but Dawn did send me two bottles of soap. I labeled that one "bathroom" so I wouldn't accidentally use it in the kitchen!!
____________________________________________________________________________
I'm excited to speak at this upcoming online conference! There are HUGE benefits to pre-registering. Go here for information!
--Nony