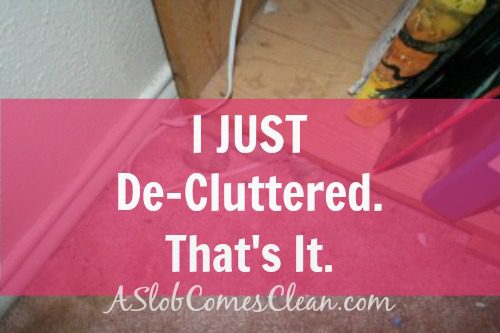 A few weeks ago, I was attending a Harlem Globetrotters reenactment.
The reenactment took place in my boys' room, and it was in the midst of the show that I finally grasped what was really going on during those moments when the answer to my yelled-across-the-house questions of "WHAT are you doing in there?" was a simple, "We're just playing BASketball, Moooommmm!"
I've shared before that I tend to live in denial for long periods of time about the state of my kids' rooms. The fact that the middle of their floor was clear (at least clear enough for a path that would accommodate a running-start-from-the-bathroom slam-dunk) had me subconsciously convinced that their room wasn't that bad.
But sitting in the room for thirty minutes watching the game, I couldn't help noticing it wasn't that good.
Between the repeated and always-hilarious Globetrotter-esque Pulling Down of the Oblivious Brother's Pants, I saw that although there was a path, the sides of the room were just one big pile.
So . . . yesterday I decided to do something in there.  SOMEthing.  (Is that a theme lately with me?)
I had neither the strength nor the energy nor the time to spend the hours in the room that would be necessary for (fleeting) perfection, so I decided to JUST declutter.
That's it.  No dreams of alphabetized bookshelves or even of solved storage dilemmas.
I was JUST going to declutter.
So, I grabbed my handy-dandy decluttering supplies and got to work.  As usual, my supplies are a black trash bag and a Donate Box. I started with the black trash bag to remove the first layer of clutter . . . the trash.  Loose Star Wars coloring sheets or school papers that hadn't been deemed worthy of tacking to the wall . . . I just trashed them.
Wire hangers (even though I do use them), went straight into the black trash bag.
After the trash layer was mostly gone, I started filling the Donate Box with things that I'm pretty sure my boys didn't know they had.
In less than thirty minutes (thirty minutes which included vlogging), it looked like this:
Yes, I ended up just focusing on that one area.  No, it's not perfect, and no I didn't vacuum.
Partly because vacuuming didn't fit in with the JUST DECLUTTER theme, but mostly because I can't bring myself to touch this:
That's Chuck's skin.  Chuck the Chicken Snake.
Chuck no longer lives with us, but his skin is a reminder of what once was and I know for a fact that my boys would miss it terribly.
Honey, if you're reading this at work today, could you please move that skin for me so I can vacuum?
Thanks.
And finally . . . another webisode! If you're reading through email, click through to the post to watch the video.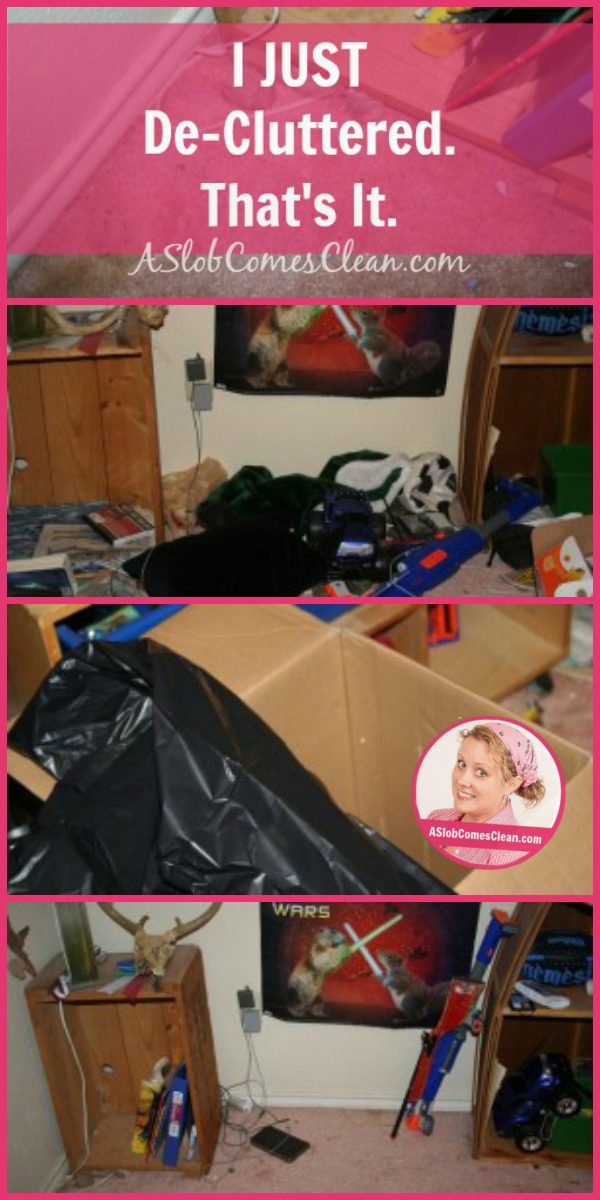 Save