Last week, while I still had delusions about writing a Normal Day post, I took this picture:
This is my daughter, doing her homework, with one of my most consistent clutter collecting spots in the background.
Right. I've shown after pictures of this exact spot in previous posts. I even have a webisode of me decluttering it.
But decluttered spots don't stay decluttered.
At least not in my house.
Anyway, when I took that "normal" picture of her doing homework, I saw the clutter in the background.
And I couldn't think of one good reason to NOT tackle it right then. (Believe me, I tried.)
I found all sorts of good stuff. Like craft supplies and jerky guns and cookbooks that are supposed to be on the cookbook shelf eighteen inches away.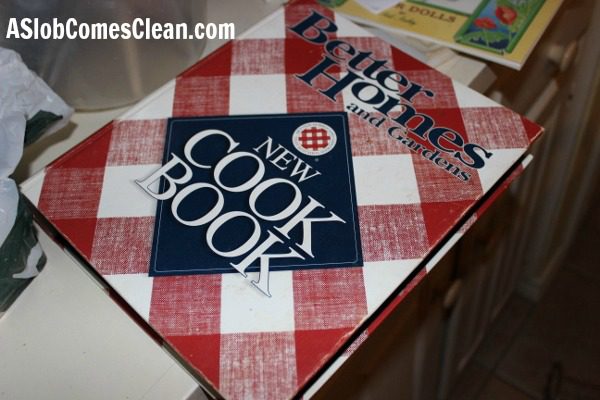 The cookbook shelf where I'd look for that cookbook if I needed it.
The cookbook shelf where I'd rest my arm while hanging my head in frustration over not being able to find the cookbook I needed.
(Y'know. While it sat at the bottom of a pile, less than two feet away . . . )
I also found this: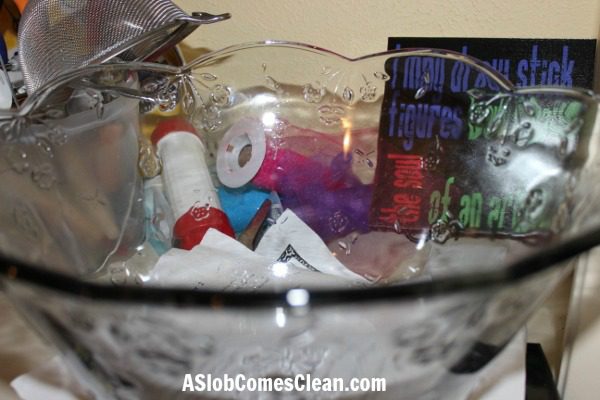 Also sitting just one hoist away from where it was supposed to go.
Except that this one had a somewhat-believable reason for not being where it should have been.
This is its box.
I'm pretty sure it was destroyed back when our kitchen (almost) flooded on the second day we lived in this house.
Seven years ago. 
Thankfully, there wasn't much damage other than this box since we caught the spewing, incorrectly-installed-fridge-water-thingy quickly.
I'm not sure why we kept the box.
But we did.
And as I groaned about the need to find tape and rig the box so it would actually do the job of a . . . box, I realized that it would be much easier to store it like this.
(What? You think that shelf needs its own decluttering post?)
I was proud and took a picture and had Hubby put the box out in the trash.
And then realized I'll now HAVE to wash it every time I use it, because it will be dusty.
Whatever. It looks better.
Anyway, after a few more take-it-where-it-goes-right-this-very-minute trips, I took yet another after picture of this space.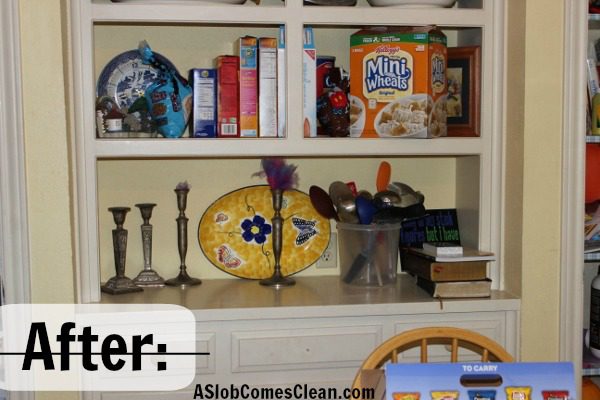 Fine. Here's the real after picture.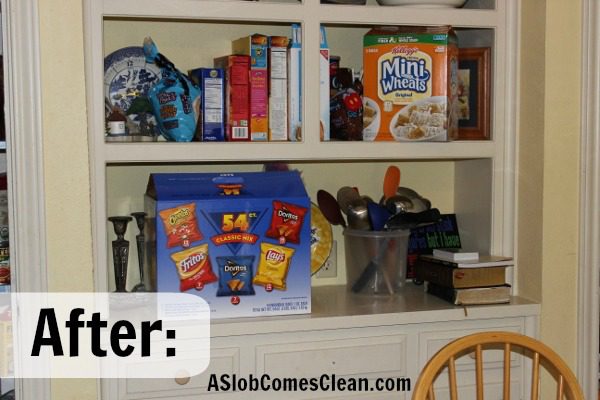 Not ideal, but it's how we live.
--Nony