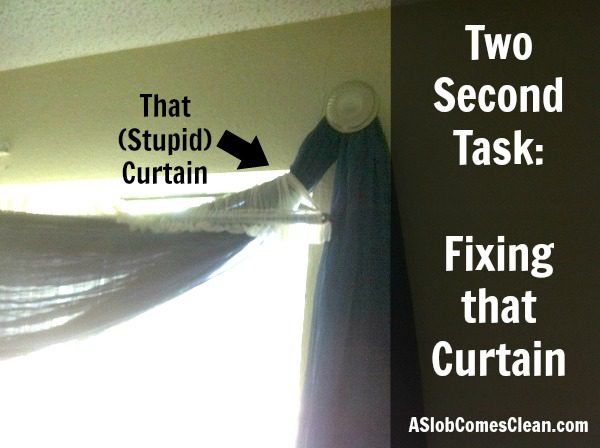 Another two-second task for you.
That (stupid) curtain had been whompy-jawed for . . . ummm . . . a while.
At least all summer.
And I hadn't fixed it.
Even when we had friends over for dinner.
Even when it bugged me like crazy.
I only fixed it when I knew someone was coming over who had likely seen it before.
People who hadn't seen it before wouldn't know if it had been like that for an hour or a day.
Or a season.
But the person who had seen it before would know. And that somehow mattered enough to finally motivate me to fix it.
And it took all of about ten seconds.
Which is more than two seconds, but a whole lot less than the number of seconds I'd spent thinking of reasons not to fix it.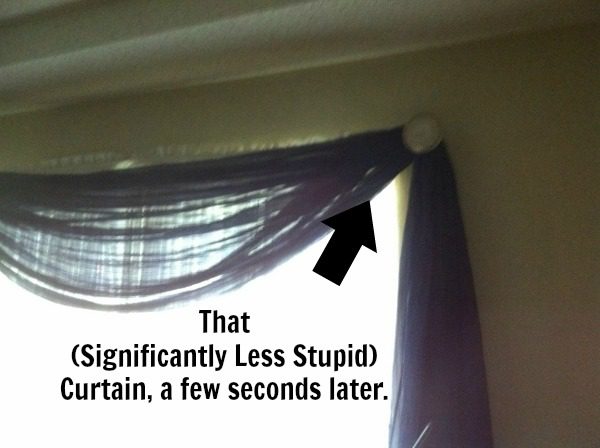 Fine print: Two-second tasks generally take more than two seconds. However, as I am prone to exaggeration in my assumption that tasks will take hours and hours of time that I do not have, I feel it is appropriate (and artistically logical) that I exaggerate in the opposite direction when naming these posts.
--Nony