I know what you're thinking.
There's a fun part of laundry?
Comparatively, yes.
I actually love Mondays. Mondays are my Laundry Days. There is a 60% chance that a Monday will be a normal Monday, which is pretty good around here.
And Mondays come after Sundays, which are the nights when I pick up and make things decent-looking for our church home group to meet.
So, on most Monday mornings, the house looks pretty nice (as long as I don't look in the bedrooms) and I get a lot of blogging work done in each hour it takes for each load to wash/dry.
But the un-fun part is the time between those hours.  The moment when the dryer stops and I need to get up and go fold and put away the clothes.
I hate intensely dislike that moment. It generally happens at the exact time when I'm waxing particularly poetic and profound.
When I just don't feel like stopping to get up.
But when I do, when I waste my time stooping down and pulling out and folding or hanging . . . when I make that last trip  to deliver a particularly sneaky pair of shorts to a room where I've already been twice . . . something good happens.
I get to move on. Move on to the part I don't mind.
I don't mind switching wet clothes from the washing machine to the dryer. I don't mind scooping up an already-sorted-by-my-kids-the-night-before pile of dirty laundry and putting it in the washer. Those things are easy, if not exactly fun.
And they're made mentally easier, mentally much-closer-to-fun when I don't have what used to be the  final step of Laundry Day hanging over my head: an ever-growing pile o' clean clothes on the loveseat.
It helps when I identify my least favorite part of the day.
When I push through it.
When I realize it takes much less time to complete this despised step than my over-imaginative mind assumes.
When I see the huge difference it makes in Laundry Day (and therefore in our home).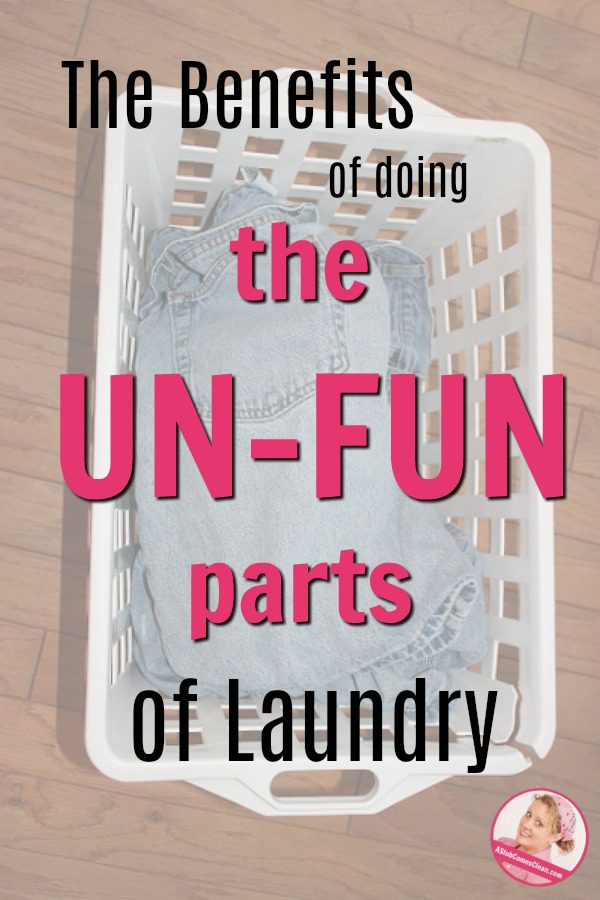 --Nony