I just posted about this week's hangout where I'll discuss Habit Two in 28 Days to Hope for Your Home.
You know. The e-book I wrote about getting your house under control.
And now I have to write this post.
Yesterday, I was feeling pretty good about my house. With the motivation of an impending doorbell on Sunday night, I got "the house" fairly together over the weekend.
I (thought I) rocked Laundry Day yesterday. All but one lousy sheet went through the laundry. Everything got folded and put away straight out of the dryer. No love-seat-pile-up.
I kept on my daily habits and we had Family Kitchen Clean Up time. When I went to bed, the dishwasher was running.
My living room looked like this.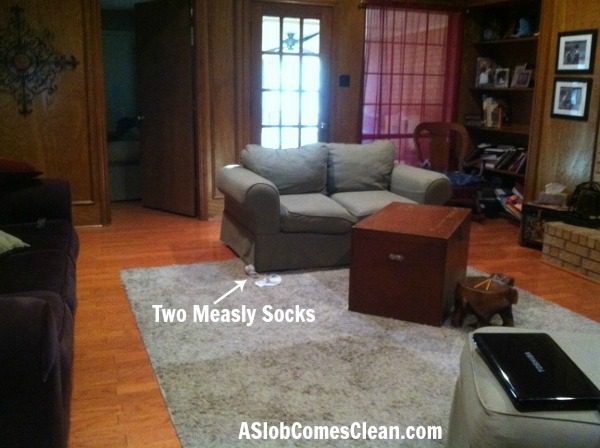 And then, at 3 a.m. . . . I awakened in a panic.
Backstory:
We had our house treated for termites just after we moved in. (A long story which ends with us never buying a FSBO house ever again.) The treatment came with a lifetime warranty that's valid as long as we pay a small fee every year and have them come out and check for further termite damage.
We changed our phones up recently, and the Bug Company didn't have our number anymore so they sent us a letter. When I called yesterday morning, they immediately said "OK, we'll be there at 9 a.m. tomorrow."
I said OK. Somehow my Slob Survival Instinct did not kick in.
I just said . . . OK . . . and never thought much more about it.
Until 3 a.m.
When I awakened with a start in total blackness. Though I couldn't see a thing, I knew that my master bedroom looked like this: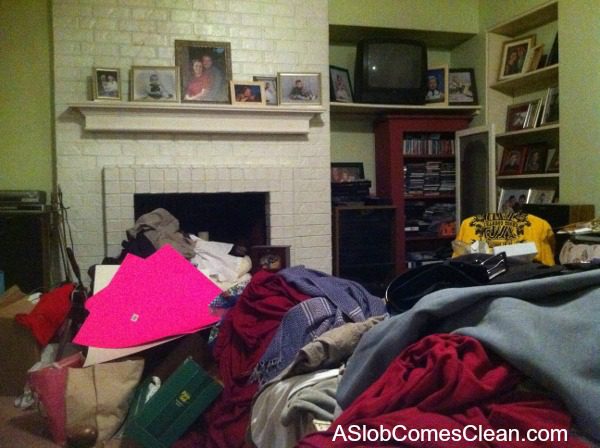 Right.
My master bedroom is again . . . a disaster.
I had been planning to share at some point.
But I was dreading it.
Y'know, after the whole Master Bedroom Saga I did last year at this time . . .
And then there's the whole why-share-until-I-fix-it-and-I'm-not-ready-to-tackle-that-monster-yet thing.
Ugh.
WHAT was I thinking when I said the Bug Man could come into my house??
At 9 a.m.?????
It never even crossed my mind to spend yesterday frantically cleaning! Really, I'm wondering if I've lost my ever-lovin' Slob Mind?!?!!
But it was 3 a.m. and our house isn't set up to allow Mama to frantically clean anything without waking up everyone. Besides, the rest of the house really did look decent. (Remember that living room pic above? With two measly socks and somewhat askew furniture?)
It was the BEDROOMS I had been pretending didn't exist.
I tossed and turned until 4, thinking of all the other ba-jillion things I've failed to get done.
At 4, I got up and quietly fixed our WiFi (which had mysteriously stopped working the night before), wrote up my show notes for my second podcast, answered a few emails, and scheduled some doctor appointments online.
When Hubby woke up just before 6, I drank my coffee, did my Bible Study and then headed into the Battle Zone. At that point, I didn't care whom I awakened.
I grabbed a trash bag and started plowing through. My goal was to take it from Total Disaster to Hmmm-This-Lady-Is-Messy-But-At-Least-I-Can-See-Some-Of-The-Floor.
I wasn't going for clean. I wasn't going for decluttered. I just wanted to lessen the horror. To make it possible for Mr. Bug Man to walk through the room and see the walls.
I had moments of paralysis when I found myself staring at this: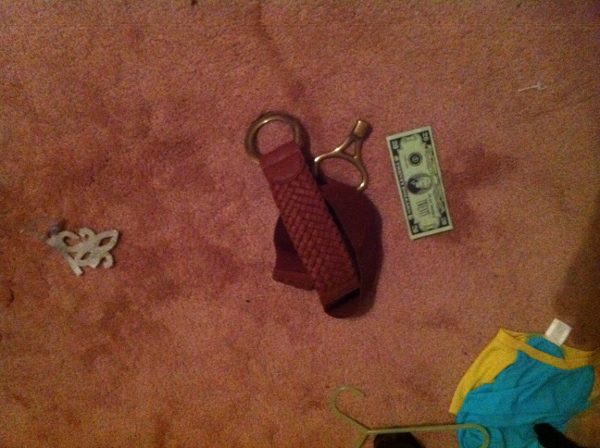 A broken tiara, a belt that has a place to hang in my closet, fake money and a too-small swim shirt. I followed my own decluttering advice and took the belt to the closet (duh), the swim shirt to the Donate Spot and threw away the fake money and broken tiara.
No one needs a broken tiara.
Really.
I did stop to go make lunches for my kids and empty the dishwasher. Now let me say that this is big for me. To go do piddly daily tasks when such huge stuff hangs over my head would never have happened pre-blog.
It might not have happened last week.
But I understand how important that momentum is. In just a few minutes, I can have a CLEAN kitchen. I chose to have a clean kitchen and a messy room instead of a messy kitchen and a messy room.
A little shoving here and there, and by the time I left to take my daughter to school at 7:25, it looked like this:
I kept floor-clearing and called it done when it looked like this: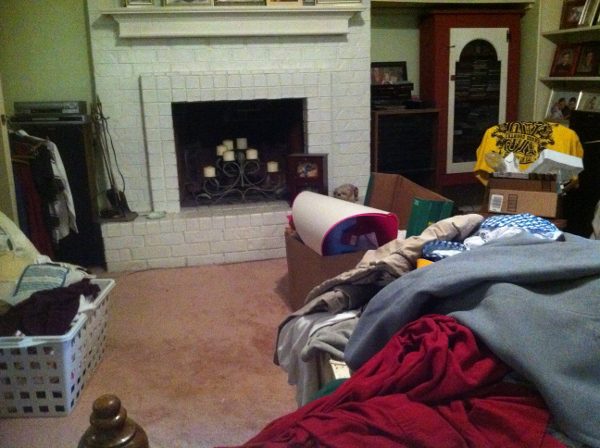 I felt better until I turned around and saw this:
A few minutes later:
Oh. The shame.
Just in case anyone ever thinks I'm proud of being a slob, let me just state that I'm not. I hate it.
Yes, I've learned to accept myself in order to work combat it, but I just hate that when things get chaotic and I'm barely hanging on in the parts of the house where people might see, I let things get like this behind the lockable doors.
I spent the rest of the time before 9 frantically taking my kids' rooms from Scary to Messy.
Ugh.
So there you go. My reality, that even I didn't comprehend until 3 a.m. this morning.
NOTE: e-book 28 Days is now retired, for detailed guides, check out my books:How to Manage Your Home Without Losing Your Mind and Decluttering at the Speed of Life.
___________________________
Note: I've published two other posts today. One is my newest (my 2nd) podcast. The other is the link to this Thursday's Google+ hangout which will cover Habit Two from 28 Days to Hope for Your Home. (Obviously, Habit Two isn't keeping your Master Bedroom tidy.)
NOTE: Google+ hangouts are no longer available for viewing (so sorry!) and 28 Days to Hope for Your Home is now included in my book, How to Manage Your Home without Losing Your Mind.
Save
--Nony