Mmmm-hmmm . . . it's officially Company Season.  Does that make your heart skip a beat?
Here's a series I wrote last year about getting your home ready for guests: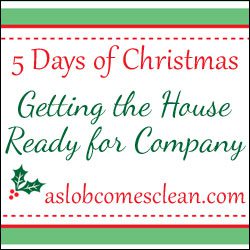 The posts include:
Feeding Your Overnight Guests – Freezer Cooking
Getting from Cleaning Day to Party Day (Without Losing My Mind)
Detailed Kitchen Cleaning Checklist
I'm going to be honest.  I'm not worrying one teeny-tiny bit about my house this week.  But . . . maybe not everyone is on a cruise this week.  (That's right, I'm not cooking a thing for seven days and am spending the entire week with Hubby's side of the family on a cruise!)
______________________________________
A few other reminders:
Have you started earning Swagbucks yet?
and
Did you know that if you're doing any of your Christmas shopping on Amazon, you can use the little search box there on my sidebar or go through any Amazon link
here on my blog and I'll get a small affiliate commission?  It doesn't affect your price at all.