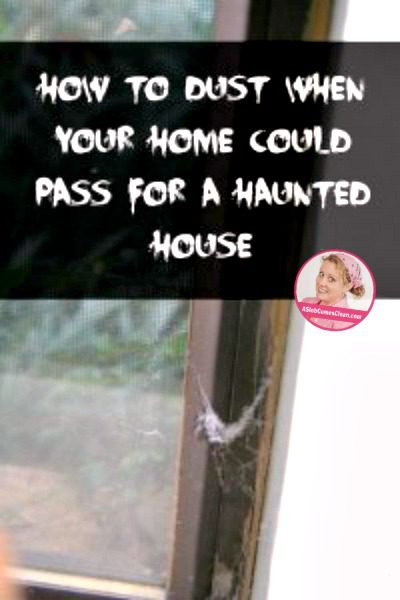 The dust in my master bedroom was atrocious when I got to Cleaning Day in the Master Bedroom Saga.
Horrendous.  Terrifying.  Appalling.
Yes, this post is part of my 31 Days of (Lame) Excuses.  But I'm going to share both a REASON why the dust was so bad, and then an excuse.
A lame excuse.
Reason:
When a room is as cluttered as my master bedroom was, cleaning (including dusting) is not possible.
You can pretend to clean and hit the few visible surfaces, but no one will believe you.  Y'know, if you were to actually let them into the room.
Excuse:
I have terrible allergies, and I don't want to disturb the dust.  Because then it would go into the air.  And into my nose.  And being terribly-horribly sick is the perfect excuse to not clean anymore.  At all.
Whatever.  I know it's lame.
So today I'm sharing how to dust when your home could pass for a haunted house.
That's right.  I can write this post because my bedroom could have passed for one.
Not that I could afford the liability insurance due to all the tripping hazards.
So what DO you do when the dust is so thick that dusting spray would only turn it to mud?
Well . . . first you use your handy-dandy hand-held vacuum cleaner
.  And you suck up the top layer.  (Y'know, because vacuuming it up is faster than SPOONing it up.)
Once the top layer is gone, and it's beginning to only look like a really bad day in a Normal Person's house . . . THEN you can use the dusting spray to wipe it up and make things all shiny and pretty.
Now if someone could just invent a dusting solution that provides permanent results . . . .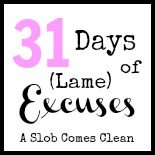 Have you voted for me today in the Circle of Moms top home management blogs?  I'm sorry.  This contest is now over.
Oh, and that hand-held vacuum cleaner link?  It's my Amazon affiliate link. What?  You don't need a hand-held vacuum cleaner, but you're just curious and want to see what I linked to?  Oh, and once you're over there at Amazon you realize that you need to do ALL your Christmas shopping which includes buying a couch AND a microwave?  (Hee hee.  My plan is working!)