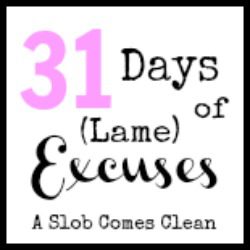 Yep.
Lame excuses.
That's what I'm committing to write about in October.
ALL of October.  Like . . . 31 whole days.
I enjoyed(ish) doing 31 Days of Details last year, and want to participate again in the 31 day challenge over at The Nester.  It didn't take long to come up with this topic.
Y'know, since it's an easy one for me.
And in case you're new around here and don't know how I roll, let me assure you that (unfortunately) I won't be using these excuses.
No.  I'll be identifying them as excuses so I won't be able to use them.
Make sense?
I haven't pre-written any posts for the series, though I have some pictures that I've looked at in the past few days and thought . . . "Oh no.  That's a post I should save for 31 Days of Excuses."
Part of me doesn't want to do this, but the Big Girl part knows I need to.
So even though I can think of multiple excuses (blog traffic stinks on weekends, I'm going to be GONE four nights this month, I still have to finish posting my Master Bedroom Saga, blah blah blah, and yada, yada, yada), I'm going to identify those as excuses and admit that one of the biggest reasons my house gets out of control is that I'm incredibly gifted at excuse-making.
Oh, and when I linked to last year's 31 Days of Details on Facebook earlier this week . . . I giggled a little when I saw that I had said I chose that topic because it was "better than 31 days of excuses."
Hee hee.  Profound in 2011, ironic in 2012.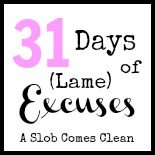 A few details:
1.  I'm not abandoning my Master Bedroom Saga.  No, it's top priority right now.  Those posts will still go up at least once a week, and if they fit for the 31 Days of (Lame) Excuses, great.  If not, I'll post twice that day.
2.  You might want to subscribe by email so you don't miss a (lame) excuse!  Emails are delivered once daily.  Just enter your email address in the sidebar.