I didn't actually say all these excuses would be my current excuses.
Did I?
Whatever. It's my blog and I can write what I want. 
(Now just a warning . . . I may get a little preachy, but I truly am basing this on my own experience.)
The most common "But . . . " I hear when it comes to housekeeping woes has to do with O.P.
Y'know, Other People.
Kids, husbands, roommates, whomever.
(Please, if you've written or spoken to me about your frustrations with Other People and how they don't help out in your deslobification process . . . don't think I'm talking personally to you.  Because I'm not.  I actually have NO specifics in my head, I just know that this is THE thing I hear the most.)
For years, I blamed my Slob Problems on all kinds of things.
So when a husband and kids and being a stay-at-home-mom didn't magically solve my Slob Problems the way I (TOTALLY irrationally) assumed they would, it was easy to nod knowingly when others would try to help out by suggesting I blame them.
Because it IS harder to keep a tidy house when you have little people living there.
And it IS hard to conduct Clutter Negotiations with a man who is kind and wonderful and sexy, but who you sometimes think might need a psychological evaluation for his completely irrational attachment to a twenty year old t-shirt that has more holes than thread.
And yes, it's harder when you're home all day with three kids making messes, and you don't have enough closet space, and you're not sure whether you're going to have another child . . .
and blah blah blah . . .
and yada yada yada . . .
and fill-in-the-blank.
Not to minimize any of those things, because they're all real and daunting and personal and challenging.
But for me . . . I had to take to heart the phrase which my kids know oh-so-well:  "Get over it."
Not that I pretended these challenges didn't exist, but I quit focusing on them.  And just focused on me and what I was doing.
And wasn't doing. 
And I found that my house started to look better.  Waaaayyyy better.  Just from me focusing on myself.  And on the things I could control.
Let me tell you a somewhat related story.  My point is kind of a stretch, but again . . . it's my blog and I can write what I want.
I LOVED my first year of college, but (for reasons too confusing to go into) had to transfer to another school for my second year.
I didn't want to.  I was miserable going to a new place where I didn't want to go and where I knew exactly one person.
And then . . . about two days before I was scheduled to leave, my grandparents were in a car accident as they were leaving our house.  And my grandfather died.
It was a shock, and it was horrible.  And I was grieving.
Because of the timing and the funeral, I got to my new college (where I didn't want to be anyway) late.  I missed all orientation activities, and as a transfer student it was very difficult to meet people.
I was miserable.  For several months.  But when it came time to go home for Thanksgiving break, I made a decision. Things were slightly better, and I'd made about two friends.  But I still missed my old school terribly.
I knew that people would ask me how I liked my new school.  I decided that I was going to say, "I love it." Not "Well, it's been hard, but I'm starting to make a few friends . . . "
Saying "I love it" wasn't the truth, exactly.  But I decided that it wasn't going to do me any good to quantify and clarify and blather on and on about the ups and downs of my semester.  I was making a decision that I loved it.  Even though I didn't necessarily feel that way yet.
And do you know what happened?  I came back from Thanksgiving break . . . loving it.
Making that decision to not give any "buts" totally changed my perspective, and I ended up absolutely loving the following three years.
I know that's a random story, and this is getting to be a long post, but my point is that so much of the battle is in perspective and attitude.
And in eliminating the "but . . . (s)."
And in getting over all the stuff you can't change anyway.
OK.  I think I'm done now.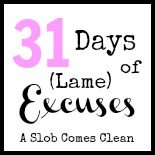 Save