Here I go with a post that will send some people over the edge.  I know, because I'm one of you.
Feel free to suggest what I could have done with these, because I really am interested.
I love knowing all the possibilities of turning trash into treasure.
But I tend to just treasure trash. 
Recently, I did something I've noticed other people doing.  Normal People.  People who don't seem to struggle with invasive messiness the way I do.
People whose homes always seem to be under control are Ruthless Thrower Awayers. 
That's right.  They'd prefer to waste something and all of its limitless possibilities . . . than have to deal with it as clutter.
Ever again.
For even two seconds.
They just throw it in the trash.
When I went to the Savvy Blogging Summit, I wore my cute polka-dot dress.  It's new, but vintage-styled, so my little Mary Janes were perfect for it.  (That's me with the blonde curly hair.)
Except that when I pulled the shoes out of my suitcase, I saw that they were broken.
I know Shoe-Fixers exist.  I know some perfectly normal and resourceful people use them.
But I don't.  I think I will, so I save broken things. But I never get them fixed.
So . . . I just threw these shoes in the trash. 
Did you gasp?
It's okay.  I would have gasped too.
I would have gasped in horror back when I was the girl who bought cute-as-can-be cowboy boots at a garage sale, intending to sell them on ebay . . . only to notice later that they were both left shoes.
And then I saved them for more-than-a-year thinking surely I could sell them separately.
To right-leg amputees. 
See? I do understand.
Perhaps this once-impossible decision was made easier for me by the fact that I didn't want to pack them up in my suitcase.
Yes, I feel the ache of shoes I used to love.  But those shoes weren't wearable.
Which made them clutter.
And I don't need clutter.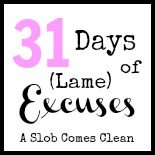 Save
Save