The vision of a Perfect Picnic generally includes an unpopulated meadow filled with (pollen-free) flowers, a red-and-white-checked tablecloth and . . . no bugs.
At all.
The whole family sits comfortably on the ground.  No one steps on his sister's sandwich.
I've never been to that kind of picnic.
For us, picnic season is baseball season and this Mama's motivation is to not eat fast food or ballpark nachos four nights a week for a month-and-a-half.  Thankfully, my family seems to enjoy our version of picnics as much as the kids in my vision of the bug-free meadow.
Because our real-life version of a Perfect Picnic involves us sitting side-by-side in folding chairs while yelling for our team with a mouthful of food, I do everything I can to make our portable dinners as practical as possible.
Last week we never used a picnic basket or even my beloved rolling soft-sided ice-chest
.  Various re-usable shopping bags and one leftover Christmas gift bag carried our picnic suppers to the baseball fields.
It was just that kind of week.
Because our picnic meals are often hot (cooked just before we leave for the ball-fields) I generally use some kind of re-usable container(s) to tote our dinner for the evening.  I then pass out napkins (and whatever else is needed) and divvy up the deliciousness as only an experienced mama can.
But last Thursday, I had to send my family off to the games without me.  It was my night to reveal my Slob Secret to my church family as I spoke at a ladies' event.  Since the much-beloved-by-my-kids (and highly-pinned-on-Pinterest) Pizza Snowballs were on the menu for that night, I knew that without me there to police the food distribution, there could be hurt feelings and a hungry brother-who-had-to-play-in-the-first-game-while-the-rest-of-the-family-was-eating.
I didn't want to use plastic bags on the still-very-hot pizza snowballs, so I divided them into paper sacks.  I felt this would keep them from getting soggy from steam.  The individual-serving bags went into the big Christmas gift bag, and according to Hubby . . . it all went well.
Of course, labeling one sack "Daddy" helped ensure that he got the bag with a few extra snowballs.
This week . . . is even crazier than last week.
Our menu:
Monday – Chicken and black bean burritos
Tuesday – Pizza pockets (I have some canned pizza dough that should make this easy)
Wednesday – Mexican casserole
Thursday – Chicken and The World's Best Zucchini Casserole (even if you don't like zucchini, you'll probably like this)
Friday – Out to Eat
What's on your menu this week?  Any picnics in your plans?
Check out my other picnic ideas: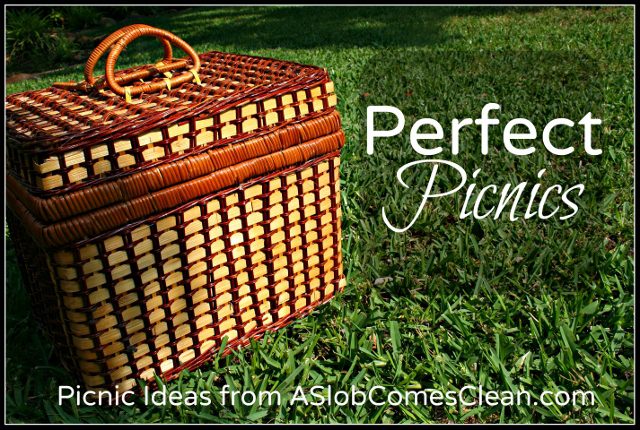 I'll be linking this up to Menu Plan Monday.
Oh, and that link to the ice-chest? It's my Amazon affiliate link.