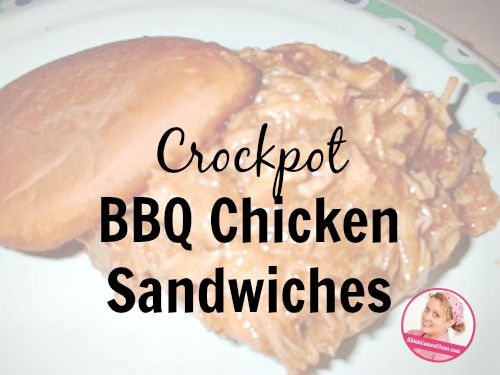 Is it just me, or can you feel the "I'm not going to want to cook tonight" funk coming on early in the day sometimes?
This is my go-to meal when that hits. First of all, it can be put in the crockpot at noon, sometimes as late as 2 if you aren't going to eat until 6:30 or so. Second, everybody loves it. Third, I've always got Kraft BBQ sauce in the cabinet that I got for free somewhere.
Throw some frozen boneless skinless chicken breasts or tenders into the crock. Dump about half a bottle of the bbq sauce on top. Put on low and walk away. Do put the lid on. It doesn't cook otherwise. Don't ask how I know this.
I love this because I put the chicken in frozen so I don't have to get icky and this means I can truly have this going in less than five minutes after coming up with the idea.
In about three or four hours or so, check to see if the chicken is fully cooked. Once it is, take your kitchen scissors and start chopping while it's right there in the crock. My husband likes it when I do this about an hour before serving so the chopped chicken can really get soaked in the sauce. I've done it 10 minutes before serving though, and it's fine.
Take some buns and either toast them or grill with a little butter in a pan.
Toasting is healthier.
Grilling is yummier.
Yes, that is my WW points scale in the picture.
You really do need to grill or toast the buns so they don't get soggy.
Don't walk away for "just a sec" to check that load of laundry.
You just might end up deciding to get it out of the dryer.
And then put the load from the washer into the dryer.
And then start folding the laundry.
And then you flip on the TV to watch while you fold the laundry.
And you feel proud of yourself for folding laundry, because you are, after all, doing a blog now about getting your home in order.
And then you smell something.
IF this were to happen, the buns MIGHT look something like this.
Honestly, it could have been so much worse. Only one of the buns was burned, and not that badly. My dear-husband-who'll-eat-anything didn't even comment.
I really love this also because it's great to have ready for after soccer practice. I've even buttered the buns and put them on a cookie sheet face up so I could stick them under the broiler really quickly when we got home.
I like to serve this with tator tots or chips, depending on if you're eating it as soon as you walk in the door or not.
I'm linking up this VERY old post to Crock Pot Mondays over at Mummy Deals.  It's definitely our go-to meal for busy days, and everyone is excited when we have it!
Here is where I buy 40 lbs of chicken at one time for a great price (yes, that was an affiliate link!) and see how I manage 40 lbs of chicken here.
I am so sorry to say that it seems Zaycon has gone out of business. I say "seems" because the information I've seen says they've "suspended" operations and I don't fully understand what is happening. I'm so so sad about this since this will change how our family keeps our freezer stocked with meat. We've been ordering almost all of our chicken, bacon, and shrimp for them for more than five years. If you had ordered recently, I recommend that you call your credit card company or bank (for debit cards) to see what can be done. I've heard many people have had success doing this.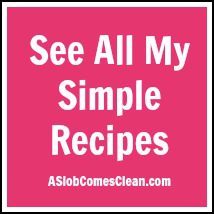 Save
Save